Les Savy Fav at The Echoplex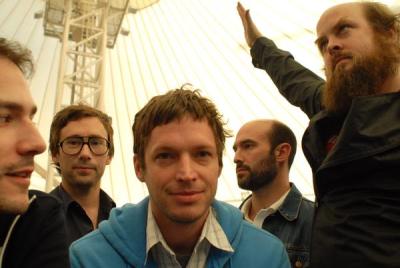 Les Savy Fav (Listen or Watch)
Sunday, May 9th
The Echoplex
8:30pm
$16 advance, $18 day of show
18+
LSF has two very decidedly different components to the live show: singer Tim Harrington's antics in enforcing the 'no boundaries' policy between him and the crowd, and the band itself. What I figured out quickly and thankfully is that by no means are the remaining members only providing a background soundtrack to Harrington's act. They can shred, they can swagger, and they can rock just as hard. They're just not shirtless or have toilet paper stuck to them via sweat glands.
Lead singer Harrington appeared on stage wrapped in toilet paper on top of his red-striped shirt. After mumbling something about how he got into an accident, and that the toilet paper reminded him of a tampon, he bounced around stage for a couple tracks before getting bored and jetting over to the stairs leading up to the VIP section, despite not having a cordless mic. He hooked his feet in the bars to make an airplane with his body before finding two foot stools to use as sleds back down the stairs. Over the duration of the show, he then stripped, donned a brown shower curtain for a cloak, duct taped himself to fans, wandered some more into the audience, used someone's cell phone, put a bucket over his head and constructed a smiley face out of duct tape, peeled a banana and stuck the end of it in a photographer's mouth, found a straw hat, passed around a large bag of tortilla chips to the audience, and changed into an actual shirt for the encore. While still singing.
Somehow though, I knew opening the show with something like "The Equestian" was going to breed some psychosis from audience members. The furious track begins with Jabour's heated guitar plucking, and dance anthem songs like "Patty Lee" only carry the crowd into more destructive oblivion. But for all the mad performance jumping jacks Harrington laid on us that night, I'm relieved to know that as a band LSF has some real rock meat underneath the craziness of their lead singer, even if they themselves look bewildered and slightly mortified at times by Harrington. – Tripwire
I have seen this band live. They put on a great show. This will sell out. You can still buy tickets here.
https://echoparknow.com/wp-content/uploads/2020/04/EPN_Logo_600px.png
0
0
Faith
https://echoparknow.com/wp-content/uploads/2020/04/EPN_Logo_600px.png
Faith
2010-04-19 19:29:00
2010-04-19 19:29:00
Les Savy Fav at The Echoplex