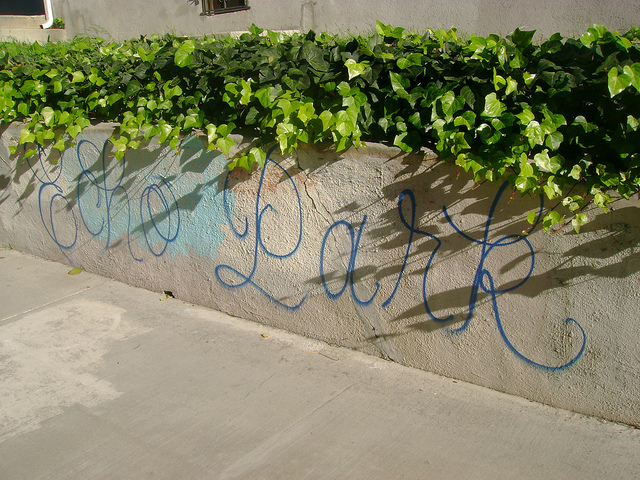 A lot has happened for Echo Park in 2011… Our personal lives got a bit busier – I got married and had a grand celebration, and have been spending all my free time this year involved in many civic activities. We're still living in the same spot, for about 6.5 years now, doing laundry across the street from Masa, but we're hitting up some new watering holes. And that's the big news for our community – Echo Park became a destination for our libation of choice (if there's no tequila): Beer! Redefining Echo Park as a beer destination are two new establishments, Mohawk Bend and Sunset Beer Company, along with a slew of new beer/wine permits at existing locations. Xoia and Fix Coffee are the most recent ones, and about to join in on the fun are Red Hill and Cookbook's new restaurant on the eastern end.
Land-use issues defined a lot of our time spent on civic activities, including the proposed 74-unit complex at the former Echo Park Community Gardens, 7-11 vying for a spot on Glendale Boulevard, and lots of community cleanups. Next year there will be a lot of new places to dine at (Cookbook, Red Hill, a new pizza place, and probably more), and hopefully we'll get some more food trucks coming through.
And in case you missed it all, here's a few things to get you updated – our top three posts of 2011 (based on how many times you all visited).
Top posts of 2011:
What they found at the bottom of Echo Park Lake
We got the scoop on what (and how many) they officially found at the bottom of the lake after the lake draining and some dredging. So if you were taking bets, they found 20 trash cans, one toilet, and two guns (and no dead bodies, guys).
A modern Echo Park Lake draining in pictures
As much as we want our lake back, the two year rehabilitation project (which started in August 2011) started off with a slew of images from many Echo Park residents. We've even got our own webcam of the lake progress, courtesy of a couple of nearby residents and their camera. Unfortunately the article sparked some debate, for a reason we're not sure about, the comments sparked debate about the whole eastside vs. not eastside, which we won't touch with a ten foot pole.
Maria the Goose takes up new residency away from Echo Park Lake
The infamous Maria the Goose was moved away from the lake in March 2011 to her new pad at the Los Angeles Zoo. The impending Echo Park Lake rehab project was, at that time, scheduled for that spring (it didn't end up starting until August). Her bestie, Dominic Elhrer, was on the zoo guest list and was allowed to visit. But of course, once she got to the zoo, the veterinarians discovered she was a HE – and aptly renamed the goose Mario. We're still partial to Maria…
Resolutions for 2012
Last year we made some promises of "Echo Parkian" things to do in 2011. We still haven't read the Madonnas of Echo Park, but we've been reading a lot more after joining a book club. We haven't climbed all the stairs year either, but got really close during the pre-wedding intense workouts I was doing. We have been doing a lot more farmers' market shopping, have supported local businesses, and even wrote a lot of articles. We did the most amazing thing ever as an Angeleno and saw the lunar eclipse and sunrise at Griffith Park – that's going to be hard to top!
For 2012… well, we got a new camera this year, so we will be taking a LOT more photos of Echo Park to document its place in the digital history books. We hope to write more articles on the sister blog, Atwater Village Now. We'd still love to have some more writers contribute to the website, so if you're looking for an excuse to get out there in Echo Park and write about something or someone, do it! There's no better way to get to know your community better!
A lot of people keep asking about advertising on Echo Park Now, and I'll just say it's not looking like that's going to happen any time soon, but you'll be the first to know if we do!
And finally, we'd like to wish everyone a wonderful new year. May 2012 be the best year yet!
Happy New Year!
https://echoparknow.com/wp-content/uploads/2020/04/EPN_Logo_600px.png
0
0
Kelly
https://echoparknow.com/wp-content/uploads/2020/04/EPN_Logo_600px.png
Kelly
2011-12-31 18:07:16
2011-12-31 18:07:16
A look back: Echo Park's year in review