Where to express your love in Echo Park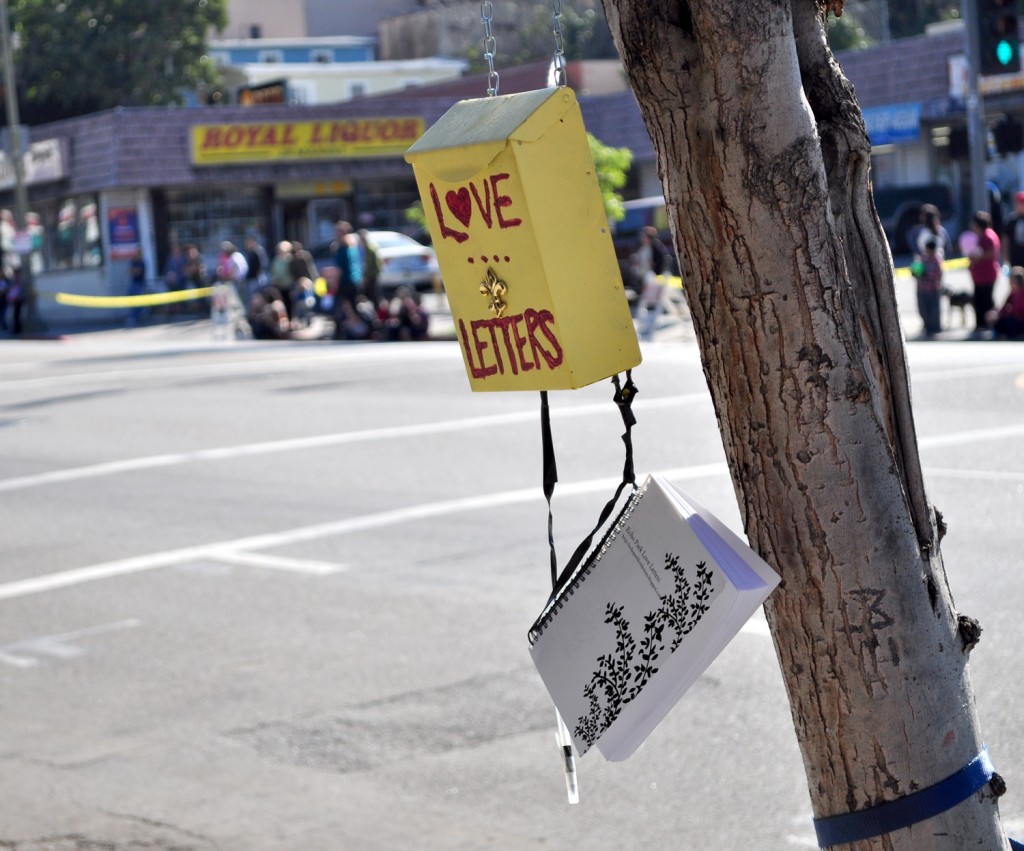 This temporary art installation caught our eye as we sipped $5 mimosas at Lot 1 Cafe during the Echo Park Community Parade last Saturday. Nothing but a yellow mail box hanging from the tree by a chain, with a blank notebook and pen attached. With no directions or how-tos, but without a second thought, we professed our love to Echo Park, dropping that white piece of paper into the yellow letter box, wondering where it would turn up.
Along with my own letter, contributions to the yellow "Love Letters" box are published online at echoparkloveletters.blogspot.com. There's already nearly 20 love letters published since the November beginning, with love letters ranging from deep poems to personally addressed letters and general love letters, like "What I love is happiness and peacefulness, as well as dirty sexy stuff!" Some of the first set of published letters are transcribed on the back of Lot 1 Cafe beer coasters.
Still no word on who's behind the art piece and why, but we're very fascinated with the different types of letters being published on the website that we're keeping a close eye!
P.S. Click here to read our love letter to Echo Park from last September.
https://echoparknow.com/wp-content/uploads/2020/04/EPN_Logo_600px.png
0
0
Kelly
https://echoparknow.com/wp-content/uploads/2020/04/EPN_Logo_600px.png
Kelly
2011-12-15 12:15:21
2011-12-15 12:15:21
Where to express your love in Echo Park