Get Organized at Bneato Bootcamp
Bneato is having another Organizing Bootcamp for the disorganized on Saturday, June 12 from 2:30-4:00 pm.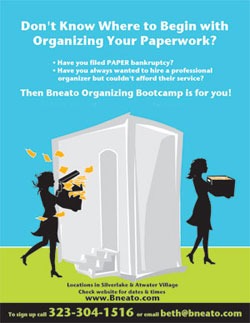 The Bootcamp is designed for those who don't have the time to organize by themselves, can't afford to hire a professional organizer but need one, and just want a better understanding of organizing and filing. From Bneato owner and Professional Organizer Beth Zeigler:
Scheduling time to organize is half the battle. But once you finally set aside time to get organized you have no idea where to begin (not to mention being overwhelmed). Plus-rounding up supplies that the professionals use is a process of its own. Enter Bneato Organizing Boot Camp. The first of its kind, Boot Camp offers accountability, the trusted help of a pro and tips and tricks to help you reach your goals (all at a price you can afford). Participants bring their own disorganized paperwork to class by placing piles (or files) in a file box.
Email Beth to sign up, or check out the website.
(There's also a $5.00 off coupon on the website if you refer a friend! Click here)
Saturday, June 12th 2:30-4:00 pm
Cost is $30
https://echoparknow.com/wp-content/uploads/2020/04/EPN_Logo_600px.png
0
0
Faith
https://echoparknow.com/wp-content/uploads/2020/04/EPN_Logo_600px.png
Faith
2010-06-10 10:08:49
2010-06-10 10:08:49
Get Organized at Bneato Bootcamp