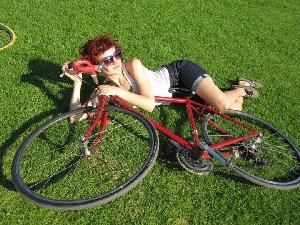 Tomorrow (Sunday, June 5, 2011), Echo Park resident Katherine Gladwin will embark on a seven-day, 545 mile bicycle ride from San Francisco to Los Angeles. The ride is in support of AIDS/LifeCycle, where participants raise money to help support the organization that provides HIV testing and treatment.
The timing for this event is perfect and purposeful: The start of the fund raising/informational tour on Sunday marks the 30th anniversary of the discovery of HIV/AIDs. Also, June is national LGBT month, and Los Angeles is kicking off the first ever LGBT Heritage month.
Katherine works at the LA Gay & Lesbian Center doing HIV testing and counseling, so it's a very important cause for her. "I've been working in the field of HIV Prevention for over a year and I've been an avid cyclist for 7+ years now, so doing this ride is an awesome opportunity to raise life-saving money while doing something I love," she says on her AIDS/LifeCycle profile page.
The ride ends in Santa Monica on June 11 for the closing ceremonies.
You can donate to our fellow Echo Park resident's cause by clicking here. Also check out her fundraising video sent to us by director Car Nazzal. Notice all the great Echo Park shots!
KATHERINE AIDS.LIFE.CYCLE FUNDRAISING VIDEO from Car Nazzal on Vimeo.
https://echoparknow.com/wp-content/uploads/2020/04/EPN_Logo_600px.png
0
0
Kelly
https://echoparknow.com/wp-content/uploads/2020/04/EPN_Logo_600px.png
Kelly
2011-06-04 11:53:58
2011-06-04 11:53:58
Echo Park resident geared up for AIDs LifeCycle ride