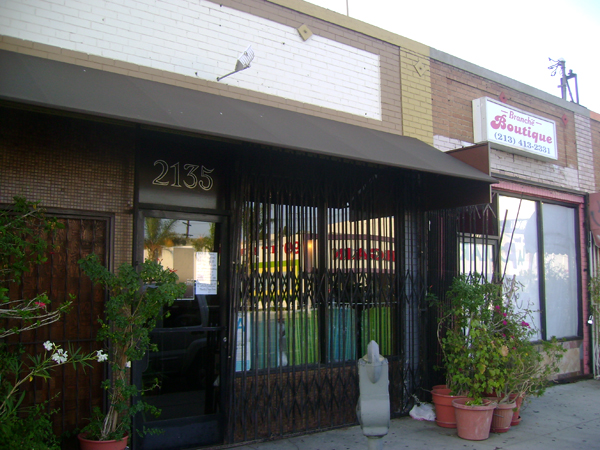 Five years ago, Elf Café opened its doors to Echo Park vegetarians and vegans seeking gourmet Mediterranean themed cuisine. Until a couple of years ago the small, 700 square foot restaurant on Sunset Boulevard barely had a kitchen; they were using hot plates and convection ovens to churn out plates just a few nights a week, but still managing to convince even the heartiest of meat-eaters that vegetarian food can be good – like, really good.
Owner and chef Scott Zwiezen has been planning for over two years now to expand and "evolve" the restaurant into the adjacent space, plans which are now finally in motion. In the summer of 2012, the hot plates were replaced by a real kitchen that currently serves 20 seats. The expansion will add 448 square feet to the restaurant, including an additional bathroom, office and storage space, and eight more seats for the restaurant.
On top of taking over the empty "Branche Boutique" space next door, Elf Café has applied for a beer and wine license. Aware of the concentration of alcohol licenses in the area, Zwiezen has been doing outreach in the immediate radius since January. They told the Neighborhood Issues Committee of the Echo Park Improvement Association last night that the majority of the input has been favorable.
They've also got some neighborhood interest in new free cooking classes starting July 17, which will focus on introducing vegetarian cooking to Spanish-language speakers on Tuesday nights when the restaurant is closed.
And it's a good time for the restaurant to start expanding its services – food critic Jonathan Gold lists Elf Café as one of his favorite restaurants in Los Angeles, recently recommending the restaurant for vegans and vegetarians in an online chat for the LA Times.
Currently, Elf is open just Wednesday through Sunday from 5:00 pm to about 1:00 am, but they will expand those hours under the beer and wine license. They are currently asking for 7:00 am – 2:00 am so that they have some flexibility should they want to start offering brunch and lunch service (which neighbor Mohawk Bend also offers). It's unclear whether or not the expansion will now require them to provide a certain number of parking spaces.
A public hearing on the beer and wine license is expected to be in August this year, construction will start that same month but the restaurant should only be closed for a few days.
Elf Café is located at 2135 W Sunset Blvd.
https://echoparknow.com/wp-content/uploads/2020/04/EPN_Logo_600px.png
0
0
Kelly
https://echoparknow.com/wp-content/uploads/2020/04/EPN_Logo_600px.png
Kelly
2012-06-21 11:41:28
2012-06-21 11:41:28
Elf Café expanding, plans to serve beer and wine