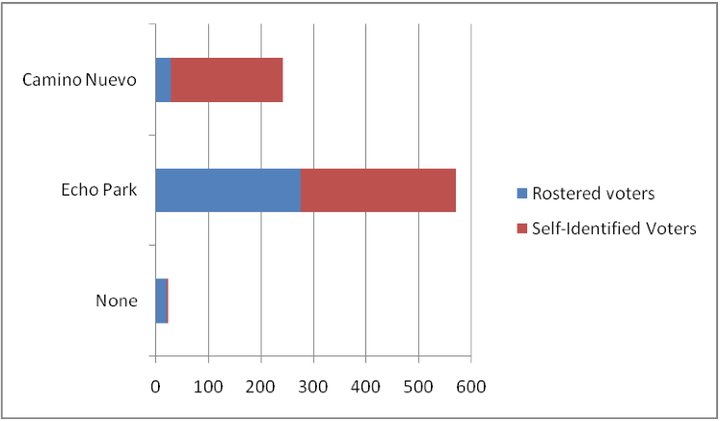 On January 27, community members, teachers and parents came out to vote on the future of CRES #14, and the votes have been tallied. The League of Women Voters reports the majority of voters chose the Echo Park Community Design Team Partners over Camino Nuevo (see graph above). This information comes ahead of the school board's decision regarding CRES14 on Monday, March 15, 2011 (note: the date was previously pushed back from February to after the March 8 elections).
Also, according to an email from local resident Windy O'Malley via the Echo Park Improvement Association, a representative from the LAUSD told them in a meeting a couple of weeks ago that 232 middle school seats would be set aside for the "zone of choice (including all of the Greater Echo Park Area). Any school that inhabits the site will have to comply," she writes. That's good news for those community members fighting for a place for Echo Park students in the future school, considering it was built in Echo Park where our neighbor's homes once existed.
The Echo Park Community Partners Plan design team and The Echo Park Parents for Community and Education are hosting a free "pizza party" today at Pizza Buona in Echo Park. Everyone is invited to attend, have some pizza, and learn more! Click here for the organization's website and on how to get involved.
Learn more at today's meeting, Monday, February 28, from 2:30 pm – 5:30 pm at Pizza Buona, located at 2100 W. Sunset Blvd.
https://echoparknow.com/wp-content/uploads/2020/04/EPN_Logo_600px.png
0
0
Kelly
https://echoparknow.com/wp-content/uploads/2020/04/EPN_Logo_600px.png
Kelly
2011-02-28 12:21:27
2011-02-28 12:21:27
Things are looking up for new Echo Park school