Two large dogs on corner of Avon and Cerro Gordo
From Echo Park resident Sandy is concerned about some dogs running around in the area:
There are two large dogs that have been hanging around the corner of Avon and Cerro Gordo St. I saw one last night – large, brown, Akita/Shepherd-ish looking dog. Then this morning while I was out with my dogs, I saw the same dog but he had a buddy with him – very coyote looking – brown, large, tall but much thinner than the other one. This time they were coming down Cerro Gordo from Elysian Park headed towards Avon. Two things – don't know their demeanor – they could be harmless, but they might not be – and it's always better to be on the safe side and steer clear of loose dogs. 2nd – maybe they belong to some who is looking for them – so thought this would be a good local venue to get the word out about them.
Please email us if you know anything!
Hank the cat is lost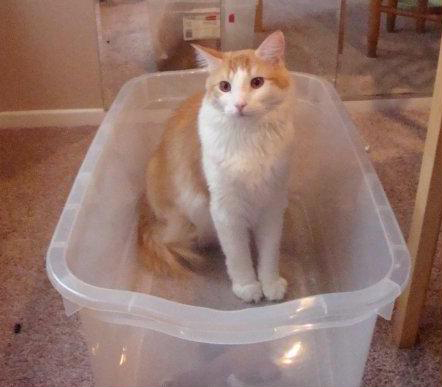 From Echo Park Now reader Alexandra:
…I am searching for my very large orange and white cat – lost Sunday [February 6, 2011] around the intersection of Avon and Baxter. His name is Hank and I would be very sad if he disappeared forever. Any info would be much appreciated if anyone has seen him.
Email Hank's owner if you have any tips through the Craigslit posting by clicking here.
Foster or adopt a 7-month old pup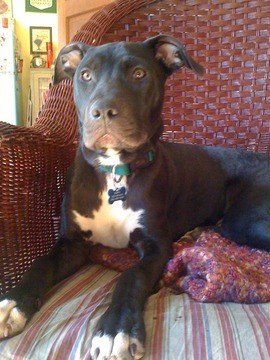 Posted recently on the Echo Park Animal Alliance forum is this sweet face:
Sweet little 7 month old Riley is in need of a new foster home this week. He is a lab/pit mix and both affectionate and playful.  He does well with cats and most dogs.  He sometimes struggles a bit with small, male dogs, especially if they have a "napoleon" complex.  He is about 40 pounds and a funny little character!

He is crate trained, fully housebroken, is doing well walking on a leash, loves people and especially LOVES kids.  If you have room in your household for a lovely 4 legged foster child, please let me know.  I will be taking him out to adoption events weekly and can provide food and flea medicine for him while you foster.

Riley has been fixed, vaccinated, microchipped.
Please email us if you are interested in fostering or adopting and we'll get you in touch with the proper folks.
Read our last Echo Park Pets post by clicking here.
https://echoparknow.com/wp-content/uploads/2020/04/EPN_Logo_600px.png
0
0
Kelly
https://echoparknow.com/wp-content/uploads/2020/04/EPN_Logo_600px.png
Kelly
2011-02-11 12:50:33
2011-02-11 12:50:33
Echo Park pet news: Lost and found