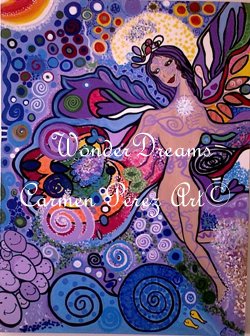 "WonderDreams" is an art exhibit about to launch at Chango here in Echo Park. The exhibit features paintings by singer/songwriter and actress Carmen Perez. According to the press release, the series is "inspired by dreams and the unseen. Dreams and journeys through other dimensions, realms, and the subconscious of the Universe expressing wonderment in worlds of color."
Carmen's background includes not just singing, painting, and acting, she was also in the Army and was a Sergeant by the age of 22. She has her Bachelor's Degree in Government and International Politics from George Mason University. With over 50 acting credits, she also had two songs in both the Top 50 Billboard Dance Club and Top 10 UK Commercial Pop Charts.
Curated by Heather Mendoza, the opening date for the free exhibit takes place on Sunday, August 22, 2010 from 4-7:00 pm at Chango, located at 1559 Echo Park Avenue.
Empanadas from Nonna's and wine will be served, and there will be live performances by musicians/artists Lee Whittaker, Byron Gore and Carmen herself.
https://echoparknow.com/wp-content/uploads/2020/04/EPN_Logo_600px.png
0
0
Kelly
https://echoparknow.com/wp-content/uploads/2020/04/EPN_Logo_600px.png
Kelly
2010-08-19 16:49:58
2010-08-19 16:49:58
"WonderDreams" Art Exhibit at Chango