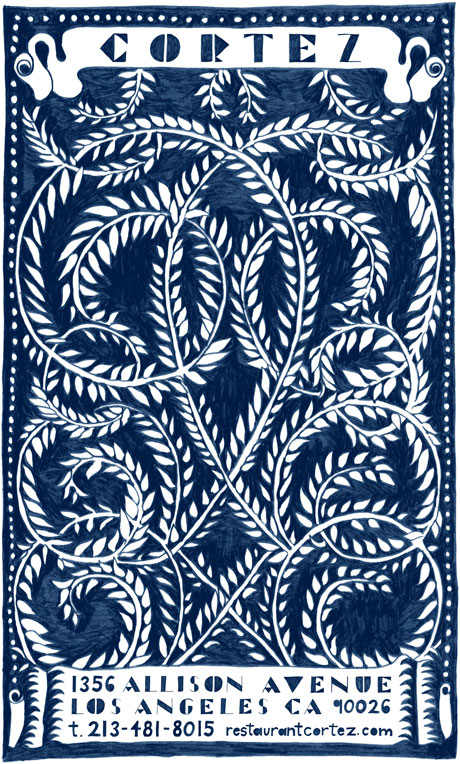 Could it be true? Only a year and week (to the day) after Cookbook owners Marta Teegan and Robert Stelzner opened Cortez in Echo Park, our rumor mill reports that it could be closing for good.
It seams like yesterday the culinary duo took over the 1,000 square foot upscale, American restaurant on Allison Avenue near Sunset Boulevard. The reviews over Yelp! are pretty darn fantastic, but perhaps it could have been the January 2013 review by the esteemed Jonathon Gold that did them in when he wrote in the LA Times:
Tiny portions are great in principle and on tasting menus, but there may be a reason so many of the regulars at Cortez fit nicely into skinny jeans. And by the time you finish ordering, you are going to have spent a shocking amount of money.
Pricey, perhaps –  but delicious from what we've heard. Echo Park Now has reached out to Cortez for comment and to confirm the rumor… in the meantime, we hope it's not true and we wish Cortez nothing but the best!
UPDATE:
You'll have a chance to check out Cortez after all – Owner Marta Teegan responded to our email, saying it is NOT closing. Glad to hear!
https://echoparknow.com/wp-content/uploads/2020/04/EPN_Logo_600px.png
0
0
Kelly
https://echoparknow.com/wp-content/uploads/2020/04/EPN_Logo_600px.png
Kelly
2013-10-15 21:59:55
2013-10-16 09:37:35
Rumor Mill: Cortez in Echo Park closing? (UPDATE)