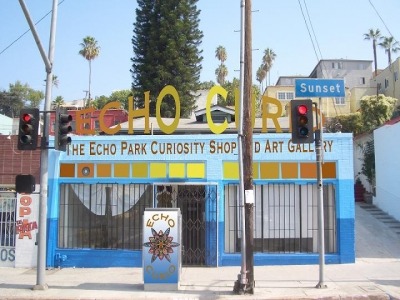 Once again Echo Curio has a lot of shows lined up to entertain the neighborhood. All shows are at 9pm unless otherwise noted. A $5 donation is asked for at the door.
Echo Curio is located at 1519 Sunset Blvd (at Laveta Ter).
Thurs, April 1st – CHRIS CORSANO + WARM CLIMATE + KOLOVOS / SILBERMAN DUO

Wowee-wow-wow-wow… we're extra psyched for this show, as we all know the
CORSANO-FLAHERTY DUO, or possibly his work with Sunburned Hand of the
Man, Michael Flowers, Bjork or Jandek, and some of us will have experienced the
CORSANO-KOLOVOS DUO, but most of us have not seen Mr. CHRIS CORSANO
solo.  This drummer experimentalist will no doubt take us into realms undreamed
of.  As will our good friend Seth and his WARM CLIMATE project, whether it be in its
solo form or three piece mammoth form.  More to come on this show!!!
www.cor-sano.com
www.myspace.com/warmclimate

Fri, April 2nd – LAURA GIBSON + ETHAN ROSE perform BRIDGE CAROLS + NOVI SPLIT + DANIEL AHEARN + CMG AND THE NIGHT
BRIDGE CAROLS was born of both LAURA GIBSON's (amazing songstress for
HUSH) and sound artist ETHAN ROSE's separate disenchantments with the written
and spoken word.  Together they have created an almost Gysin-esque way of
chopping and rearranging word and tone in new and challenging formats.  The
other three bands pretty much go about the same old way that everybody else
does, but man, do they do it beautifully.
www.bridgecarols.com
www.myspace.com/danielahearn
www.myspace.com/cmglovesyou
www.myspace.com/novisplit
https://echoparknow.com/wp-content/uploads/2020/04/EPN_Logo_600px.png
0
0
Faith
https://echoparknow.com/wp-content/uploads/2020/04/EPN_Logo_600px.png
Faith
2010-03-30 15:00:36
2010-04-20 13:05:36
April Events At Echo Curio