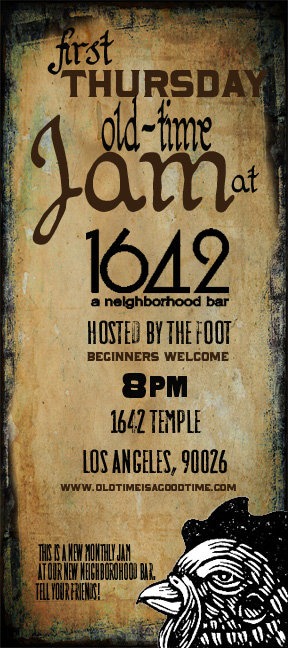 I've been meaning to write about 1642 bar for a while now since it's such a cool space in an unusual part of town. Located at 1642 Temple (and technically part of Historic Filipinotown),the decor is simple and friendly with a few seats at the weathered bar, and tables and black booth seats around the interior. There's an original brick wall along the rights side they had uncovered during the remodel, and gorgeous original antique lamps hanging from the ceiling.
1642 opened up early this Spring after doing quite a bit of remodeling to the 1940s building. The space used to house a restaurant/bar called "Lupita's," apparently remembered for paintings of nude women adorning the walls.
Well the nude paintings are gone (are you disappointed?), but you can find owner Liz Fischbach behind the bar, serving up salty peanuts alongside a selection of 4-6 craft beers on tap, plus bottles and cans of other delicious beers, and wines by the glass.
1642 does host some events at the bar, in the past such events included a "Slow Dance" and other such DJ'd events. The next one is coming up soon! The Old-Time Music open Jam night started in May, and will continue every month on the first Thursday. Check it out this Thursday, August 5, from 8:00 – 11:00 pm.
1642 is located at 1642 West Temple St.
https://echoparknow.com/wp-content/uploads/2020/04/EPN_Logo_600px.png
0
0
Kelly
https://echoparknow.com/wp-content/uploads/2020/04/EPN_Logo_600px.png
Kelly
2010-08-04 16:37:37
2010-08-16 16:05:02
Old-Time Jam every first Thursday at 1642