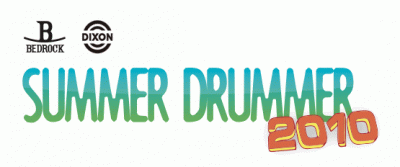 As we posted last month, Bedrock in Echo Park is offering basic drumming classes for kids age 8 to 16 this summer. Presented in association with Dixon Drums, the two-week course is led by studio/live drummer John Montgomery and Jacob Dillon, and takes place  from July 12-24, 2010. There is a morning group (9:00 am – 1:00 pm) and an afternoon group (1:30 – 5:30 pm).
At the end of the course, there's a graduation concert for friends and family where students get to play live with a band. The classes themselves are not free ($800, all-inclusive), but a limited number of scholarships are available courtesy of the Los Angeles Performing Arts Foundation. There are still spots available as of the publishing of this post.
UPDATE: On the second day of the program, drummer Denny Seiwell (drummer in Wings) will give a private clinic for the group sponsored by DW Drums.
Open House Part Deux Scheduled:
Bedrock had an open house at the end of April, and due to its success is having another one on Saturday, May 29th, 2010 from 11:00 am to 1:00 pm for those interested in the summer session to meet the staff, play drums, and take part in a demonstration. Kids will get some free stuff like t-shirts, snacks and drinks. It's free, and you don't have to make a reservation.
"The one we did in April was a lot of fun," said Adam Aaronson from Bedrock. "It was truly amazing to watch kids shyly shuffle in and within minutes be jamming out a beat.  There were even a few jam sessions with teachers and students."
For more information, call Bedrock at  213-673-1473 (ext. 7), email them at lessons@bedrockla.com, or visit the website.
Bedrock Studios is located at 1623 Allesandro St.
https://echoparknow.com/wp-content/uploads/2020/04/EPN_Logo_600px.png
0
0
Faith
https://echoparknow.com/wp-content/uploads/2020/04/EPN_Logo_600px.png
Faith
2010-05-22 15:38:35
2010-08-13 14:28:26
Open House for Summer Drummer Program