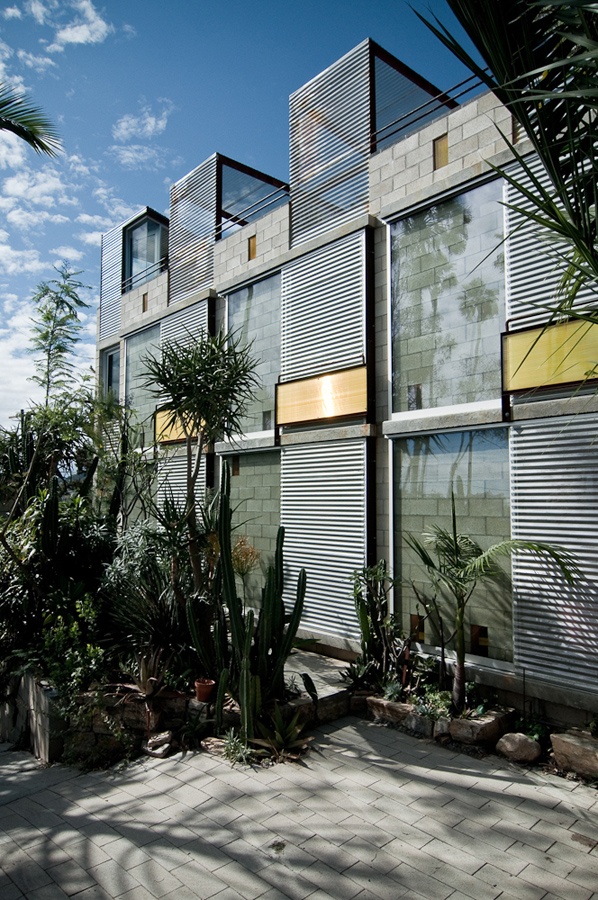 Today marks the start of the annual Dwell on Design conference in Downtown Los Angeles – it's a pretty cool, inspiring event if you have never been! As part of the weekend-long event, they are hosting an Eastside Home Tours on Saturday, June 25 that covers architecturally significant homes around Echo Park, Silver Lake of course, and even Mt. Washington.
The Echo Park house featured in the tour particularly caught our eye because it's been a mystery to us for some time now – it's an oddly shaped concrete house on Lake Shore Avenue that started going up years ago, and I never got a close look thanks to some menacing guard dogs. Apparently it's the work of Norman Millar Architects and is named "ArkHouse."
The new structure replaces a 1904 "weekend cabin." It's described by the architects on the Dwell website as the following:
"Based on the idea of a mini mall, the project has repetitive concrete shear walls and repetitive spaces served by centrally located plumbing.
"All of the spaces are the same. The use of each room is determined by how it is furnished by its inhabitants. Floor to ceiling glass doors slide open on the outside of the building blurring the lines between indoors and the garden. The house has a narrow footprint allowing most of the site to be given over to vegetation and sunlight and providing easy flow through ventilation. The green roof provides insulation and plenty of food for most of the year."
Not exactly my cup of tea – I'm more of an old-school California bungalow type of gal, even with natural ventilation and lighting. But we are definitely curious for a peak of the inside, photos of which you can find on the Dwell Eastside Home Tours page.
Tickets are sold out, but you can check out photos of the featured houses on the website.
https://echoparknow.com/wp-content/uploads/2020/04/EPN_Logo_600px.png
0
0
Kelly
https://echoparknow.com/wp-content/uploads/2020/04/EPN_Logo_600px.png
Kelly
2011-06-24 18:17:34
2011-06-24 18:17:34
Crazy Echo Park house in Saturday's Dwell on Design tours