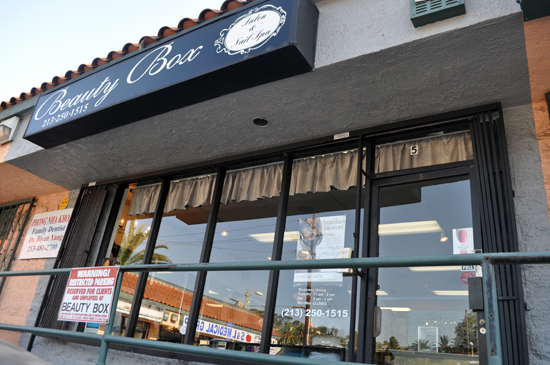 Beauty Box in Echo Park is a great example of the giving spirit of our local businesses. Since 2006, just a few months after opening the store (its original location is where Rock Paper Scissors is now), owners and sisters Vanessa Arce-Mendez and Lydia Guido were inspired to give back to their Los Angeles community by doing what they do best: Beauty!
After chatting with a client who was working at Homegirl Industries, they all came up with the idea to donate their time to young teenagers and women who needed a little pick-me-up, inside and outside.
Homegirl Industries, a part of Homeboy Industries, provides at-risk and gang-involved youth with a chance to "contribute" to their communities by getting jobs, experience, and education. Beauty Box gives the girls makeovers, an opportunity for Lydia and Vanessa to help give them a day where they would "just feel good!"
Since Homegirl Industries helps with job placement, Vanessa and Lydia started with volunteering their hair and makeup services once a month to two women from the organization to help them prepare for job interviews. As the shop grew, and they moved to its current location across the street on Sunset Boulevard, they were able to add one more volunteer service with each additional staff member that was hired.
Vanessa wanted to give back, especially to women in Los Angeles, because she was a teen mom. While she had lots of family support, Vanessa knew a lot of girls her age, in her same circumstance, who didn't have the same support. "I thought, one day when I can," she said, "I will help other people as soon as I could do it."
Beauty Box just recently decided to switch things up a bit, and is now going to start volunteering with a client who helps women develop interview skills and get appropriate clothes for job interviews. In addition to volunteering their services for hair, the women will leave with a goodie bag to help them maintain the new look.
Keep up the great work!
Beauty Box Salon & Nails
1498 W Sunset Blvd.
213-250-1515
https://echoparknow.com/wp-content/uploads/2020/04/EPN_Logo_600px.png
0
0
Kelly
https://echoparknow.com/wp-content/uploads/2020/04/EPN_Logo_600px.png
Kelly
2011-10-12 15:20:25
2011-10-12 15:22:20
Echo Park beauty salon volunteers makeovers for job-seekers in need