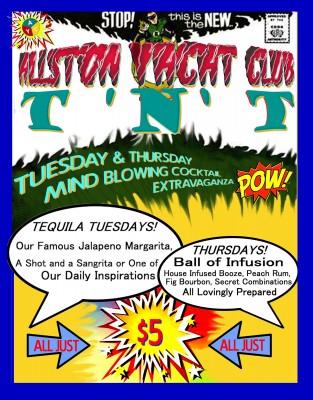 I have to admit, I'm a little bit of a tequila snob – so forget the Gold Room's tequila shot + taco special (no offense, I'm also a semi-vegetarian but refrain your judgment….). It's all about AYC.
Tuesday night was the first night of Allston Yacht Club's newly established nights of TNT – otherwise known as tequila night Tuesdays/Thursdays. $5 gets you a Jalapeno Margarita, a shot and sangria, or a daily special on Tuesdays. Thursdays are $5 for their "ball of infusion" – which is better than it sounds (their infused drinks during the holidays are just an example of why this is good stuff).
Today's "ball of infusion" featured drinks? Fig Bourbon in their "Yacht Club Old Fashioned," Peach-Steeped Dark Rum in the "AYC Dark and Stormy," and finally Blueberries, Ginger, Dragon Chili and Polish Vodka in a Collins, unless otherwise requested.
We also really like AYC for the Wicked Wednesdays – all menu items are $5. Not to mention, it's a low-key restaurant with plenty of seating at the bar – my favorite view!
See you there!
https://echoparknow.com/wp-content/uploads/2020/04/EPN_Logo_600px.png
0
0
Kelly
https://echoparknow.com/wp-content/uploads/2020/04/EPN_Logo_600px.png
Kelly
2011-09-29 17:57:10
2011-09-29 17:57:10
Tonight at AYC: Infused drinks with a kick for 5 bucks