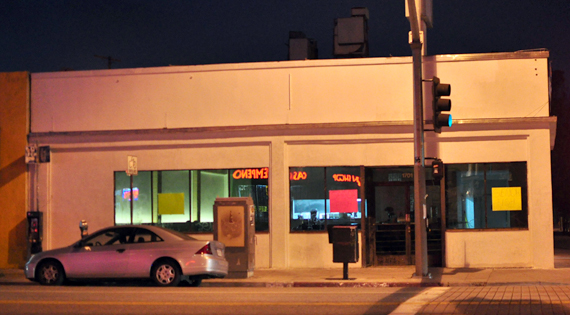 Tonight, the Greater Elysian Echo Park Neighborhood Council (GEPENC) will discuss an application by Echo Park restaurant Señor Fish to add liquor to its existing beer and wine license, as well as to expand its seating to the adjacent building, formerly the tortilleria.
Señor Fish may have opened last May, but it would be difficult to tell if you were just walking by. Though a new sign has been installed on the corner of the roof, the restaurant chain has yet to repair the graffiti-riddled windows. General Manager Jesse Pimentel said in July, in an email, that the windows were to be replaced within a couple of weeks, saying, "The windows will be replaced first. We are also going to put some stools along the counter by the TV and also beautify the interior."
In an article by The Eastsider LA from late August, the windows were again addressed and the new windows were only a "couple of weeks" away from being repaired:
Ramirez [the restaurant owner] said he has held off  replacing the windows for fear they would get scratched as soon as they get replaced. He said vandals can still scratch or cut their way through the plastic film that has been applied to many windows to protect them against scratches.  Currently, his family is working on a wood screen that would protect the windows at night but roll down and out of the way during the day time and create a wainscoating at the base of the building. If that does not prove practical,  the store will install some other type of metal screen or folding doors. What ever option is selected, expect new windows in a couple of weeks, he said.
Pimentel also mentioned the response to the restaurant opening had been great, but they may not get the community support for a full liquor license and restaurant expansion if the windows aren't repaired.
The neighborhood council meeting is tonight, Wednesday, September 12, 2012 at 7:00 pm. The Community Center where the meeting will be held is located at 1572 Sunset Boulevard behind the Bank of America.
The meeting agenda also includes discusion of five single family small lot dwellings at 1516 Echo Park Avenue.
https://echoparknow.com/wp-content/uploads/2020/04/EPN_Logo_600px.png
0
0
Kelly
https://echoparknow.com/wp-content/uploads/2020/04/EPN_Logo_600px.png
Kelly
2012-09-12 13:05:56
2012-09-12 13:05:56
Señor Fish expanding its footprint and liquor license