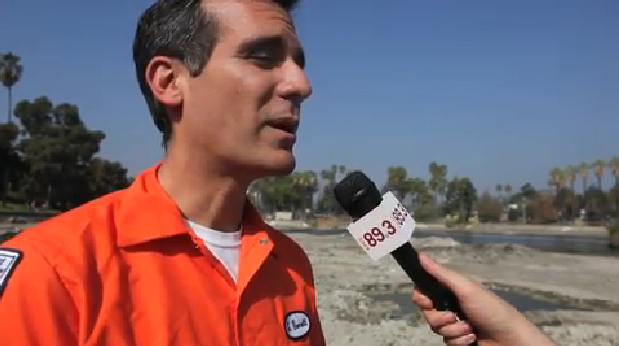 KPCC joins Eric Garcetti to explore the bottom of the now-drained Echo Park Lake (well, before the rainy weekend we had). "We've polluted this lake, it's lost its character," Garcetti told them, "It's time to bring it back to something that's healthy for the next hundred years."
Listen to the radio segment (there's a funny moment where Senior Adviser of Garcetti's office Mitch O'Farrell loses a shoe in the lake's muck), and watch the video at on the KPCC website.
Fed up Echo park resident starts the popular "Bank Transfer Day"
When Bank of America announced it would start charging $5 per month debit card fees, 27-year-old Echo Park resident Kristen Christian took it to the social media streets. Bank of America has since retracted the planned fees, but after tens of thousands of people pledged to transfer their banks by Saturday, November 5. Kristen has been all over the media, making television appearances and talking about her cause. If you're still interested in a credit union, Echo Park Time Bank recommends the California Credit Union near Echo Park.
Read about it on the LA Times and Echo Park Patch.
More hidden stairways
We've huffed and puffed our way up these stairs before, but the views are worth it! The Eastsider LA posted a video today of the Loma Vista stairway between Echo Park and Silver Lake. Hopefully the rain will hold off long enough this week for you to check it out!
https://echoparknow.com/wp-content/uploads/2020/04/EPN_Logo_600px.png
0
0
Kelly
https://echoparknow.com/wp-content/uploads/2020/04/EPN_Logo_600px.png
Kelly
2011-11-07 12:37:46
2011-11-07 14:22:49
Echo Park in the News