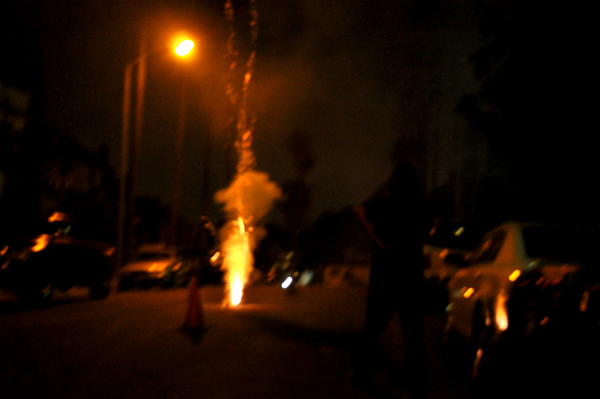 We have a bit of a July 4th tradition now after living in our Echo Park pad for a few years: A little barbecue party in the yard, and then a walk around the 'hood for some crazy fireworks action. Our street used to be like a war zone – teenagers darting into the middle of the street between cars to set of some obnoxious spinner or rocket, and plumes of smoke constantly hanging in the air. This year, our street was pretty tame, but there's a few around the bend that ALWAYS put on a good show.
First up, Dodger Stadium had fireworks following a loss against the Mets, so we walked up the hill to a little viewpoint where a few locals sat in their beach chairs with the kids and enjoyed the show. Next up, that street around the corner that never fails to wow us with their fireworks (where the heck do they get those?!). They had some chrysanthemum-shaped ones that thankfully didn't set fire to any of the tall palm trees. This street was pandemonium, kids running around, teens lighting their own little firework bombs, and an all-around good time.
Speaking of pandemonium: The finale, the one thing I'd promised all our friends will never fail to amaze and awe, something you have to see it just once – Fourth of July at Echo Park Lake. And the best word to describe it is indeed just pandemonium, because every year at the Lake are crowds of people lighting roman candles, bottle rockets, spinners, even home-made bombs. You name it, the firework was there, big and small. Last year, dozens of parachute shells lingered in the air while we watched a roman candle launched straight into a palm tree on bird island, lighting it on fire. Every direction you looked was some spinner or sparkler going off, and there was definitely a lot of questionable parenting going on as young kids ran rampant and lit some pretty dangerous stuff. But that aside, it's kind of fun!
This year sadly, the Lake lacked fireworks and any crowd at all. It was deathly quiet, and strange – a small group of residents who live just up the street told us cops had come by about an hour before announcing the closure of the lake, ordering everyone to leave.
But that's happened before – cops come and over loudspeakers tell you to leave. Everything goes on as usual until they show up in full force. But this year they must have done something different, perhaps? Echo Park Patch writes officers had a strong presence (we didn't see any when we arrived), and "according to officers on duty, there were no incidents at all of people using fireworks in the park."
It's a strange contrast to previous years, and with the upcoming rehab project shutting down the lake for two years, we're wondering if 2010 was the last time we watched the incredible illegal fireworks show at Echo Park Lake.
https://echoparknow.com/wp-content/uploads/2020/04/EPN_Logo_600px.png
0
0
Kelly
https://echoparknow.com/wp-content/uploads/2020/04/EPN_Logo_600px.png
Kelly
2011-07-05 11:01:51
2011-07-05 11:01:51
The Lake lacked fireworks, but the neighborhood didn't