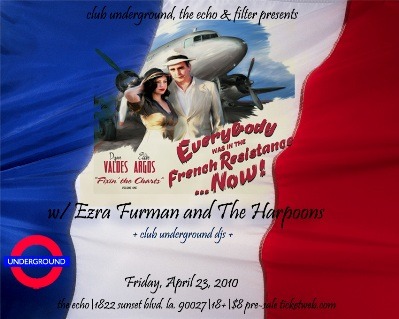 Everybody Was In The French Resistance…Now, Ezra Furman and The Harpoons at The Echo:
9pm. $8. 18+
If you don't know the gimmick yet, Everybody Was In The French Resistance… Now is all about rewriting the biggest mistakes in pop history. Whether it's telling Avril Lavigne to back off or correcting the likes of Bob Dylan on "Think Twice (It's Not Alright)", they've corrected some grave injustices in the popular musical landscape. But if you're still not sure what's going on, you can get a first-hand look when the band, lead by Art Brut's Eddie Argos and The Blood Arm's Dyan Valdes, tour the U.S. and Canada this April and May.
The tour kicks off April 23rd in Los Angeles, CA and darts all across the U.S. and into Toronto and Montreal before wrapping up on May 26th in Phoenix, AZ. In an interview with NME recently, Argos said he was excited to get out on the road, especially to get ahead of work on his day job band.
"I'm really looking forward to the tour," Argos said. "Unfortunately Dave Newton, who played the European tour and SXSW shows, can't make it. We have Ian Catskilkin from Art Brut instead, which will be useful for writing the next Art Brut album." – Consequence of Sound
with resident DJs spinning the best in Brit / Indie / Soul / Twee / Madchester / Punk / Glam
Find out more at ClubUnderground.net.
https://echoparknow.com/wp-content/uploads/2020/04/EPN_Logo_600px.png
0
0
Faith
https://echoparknow.com/wp-content/uploads/2020/04/EPN_Logo_600px.png
Faith
2010-04-23 15:33:49
2010-04-23 15:56:48
Friday Night In Echo Park