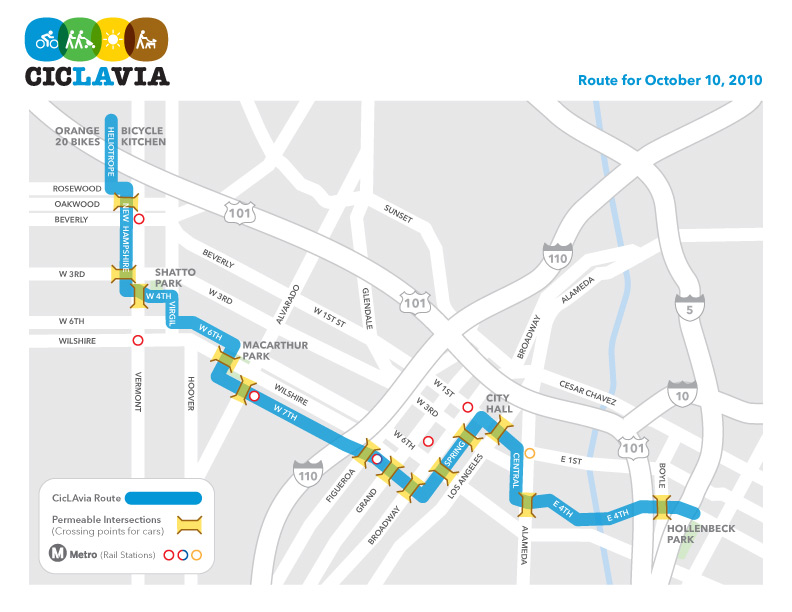 How many things have you noticed about your neighborhood or other parts of LA when you drove through them, versus what you've noticed while walking or biking by?
Now's your chance to experience parts of Los Angeles like you never have before. Coming up soon on Sunday, October 10 is CicLAvia – a walking/biking event that is closing down some of our Los Angeles roads to give us the opportunity to see and experience the city without any cars.
This event has had huge success outside of the U.S. (it started in Bogotá, Colombia) as well as in San Francisco and Seattle, but this is a first for Los Angeles. The goal of this event isn't just to close down roads, interrupt traffic, and have an excuse to bike ride – it's about temporarily reclaiming public space in order for us to "walk, bike, socialize, celebrate, and learn about new cultures and neighborhoods." It will be a great opportunity to shop some of our local stores, try some new restaurants, and get to share the space with more people. I am looking forward to the event and think it will be a one-of-a-kind experience in Los Angeles when it comes to reclaiming public space.
The event starts in the "bicycle district" on Heliotrope (eg. where the Bicycle Kitchen is) and ends in Hollenbeck Park in East LA.
There will be a few road closures in the Rampart area, and while CicLAvia is new to Los Angeles, Rampart Officers aren't too concerned about the new event and things should run smoothly. However, in addition to the newbie factor, the difference between this event and the LA Marathon also includes some "breaks" in the route (see above map), and, to be honest, people forget to move their cars on road closure days so there might be a few unhappy people trekking to the impound.
Event-wise, there are group rides planned (including a NELA one from Mt. Washington area), art events, rest stops, food and even yoga throughout the route, so make sure you click here to view the full events map and timeline.
Click here to visit the CicLAvia website to learn more about the event and view route maps.
CicLAvia
October 10 from 10:00 am – 3:00 pm
Route Map | Events/Activities
This also brings to mind what I thought was some kind of old wive's tale or something – a few years ago a big section of the Pasadena Freeway (that's the 110 freeway for you newbs) was closed for cyclists and pedestrians for an event called ArroyoFest. You can read more of it from the LA Times blog by clicking here.
https://echoparknow.com/wp-content/uploads/2020/04/EPN_Logo_600px.png
0
0
Kelly
https://echoparknow.com/wp-content/uploads/2020/04/EPN_Logo_600px.png
Kelly
2010-10-08 16:47:50
2010-10-08 17:51:24
Taking over the Streets: CicLAvia on Sunday