The recent issue of EPIAn Ways (for which, for full disclosure, I am the editor) highlights a problem we've always noticed but didn't think we could do anything about: The dilapidated state of a stretch of Glendale Boulevard in Echo Park.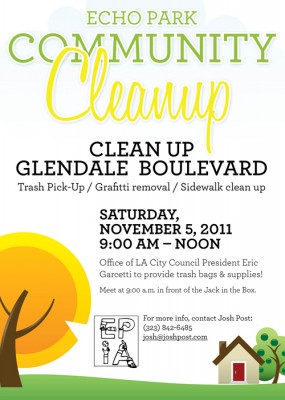 Glendale Boulevard is a far cry from what it started out as – it was the site of our first film studio, where Red Cars once ran, and the main thoroughfare into Echo Park from neighborhoods and cities north of the 'hood. Now it's a freeway for commuters, peeling paint on buildings, chain-link fences, empty lots and "for rent" signs. Most probably don't even notice great businesses on that part of Glendale Boulevard, such as the music space Bedrock Studios, and the soon-to-be home of Echo Country Outpost, let alone what Echo Park is like beyond the main street.
Thankfully, Echo Park resident Josh Post has not only taken notice, he's doing something about it. In the EPIAn Ways article, he calls the area between Berkeley and Duane Street a "dead zone," where "trash clutters sidewalks, graffiti adorns dilapidated/empty warehouses, overgrown empty lots sit litter-filled behind chain-linked fencing, and not one tree is planted along this four-block stretch. The area has become the antithesis of 'urban renewal.'"
He started by getting together with the Echo Park Improvement Association about cleaning up Glendale Boulevard – the short term goal to clean up trash, remove graffiti, and improve sidewalks. The long term goal to get businesses along Glendale Boulevard to actively participate in keeping it clean, to plant trees and other decorative elements to revitalize the area. He even proposed having a silent movie theater to "pay homage to the corridor's history" (we LOVE that idea!).
So what drove Josh to take action? "Echo Park is my home," he said in an email. "I want the most visible part of this community to be more representative of the true beauty and character of the neighborhood. I quickly realized on my daily jogs down Glendale Boulevard that nothing is going to get done to improve this area unless we, as community members, take action."
Bravo!
If you agree, spend some time with myself, the Echo Park Improvement Association, and other neighbors and activists in a truly grassroots effort to clean up Glendale Boulevard:
Echo Park Community Cleanup: Glendale Boulevard
Saturday, November 5, 2011
9:00 am – noon
Meet at 9:00 am at the Jack in the Box

https://echoparknow.com/wp-content/uploads/2020/04/EPN_Logo_600px.png
0
0
Kelly
https://echoparknow.com/wp-content/uploads/2020/04/EPN_Logo_600px.png
Kelly
2011-09-09 18:51:27
2011-09-09 18:51:27
A dilapidated Glendale Boulevard in Echo Park needs some TLC