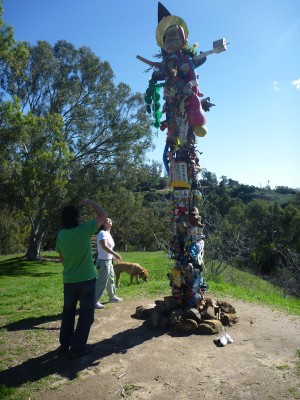 Back in May, we mentioned an Eastsider LA article on a set of random sculptures in parts of Elysian Park that had been taken down by Rec and Parks because of the lack of permits. As it turns out, the "random" totem poles and other sculptures covered in colorful paint, stuffed animals, and toys are actually the work of Venice Beach resident Ryan Wade.
"I welcome mails from people who had a chance to experience the sculptures in the park and I welcome any info about or from the committees that are active in organizing the parks activities," said Ryan. "I hope these pieces were an inspiration to the viewers and I hope to see more artists taking their work into the public arena."
Ryan rescued those items removed by Rec and Parks, and are now on display at the Los Angeles Contemporary Exhibitions (L.A.C.E.) right now through December as part of an exhibit put on by the Elysian Park Museum of Art (EPMoA).
The EPMoA basically an experiment in the creative use of public space using temporary installations/exhibits and mostly performance art pieces (and following park rules, of course):
A constantly evolving association of artists and curators involved with EPMoA have created site-specific performances, installations, and actions that consider the fractured geography of the park — its unmapped trails, picnic areas, a stadium, a police academy, highway onramps, radio towers, squatter communities, and parking lots — with the goal of creating a cohesive investigation into the contemporary function of a museum, a park, and public spaces in general.
FYI, though Ryan's art installations in Elysian Park last Spring (the original installations were not part of EPMoA or L.A.C.E.) was technically illegal/lacked necessary permits, these types of public art aren't unusual in Los Angeles – there are tons of art initiatives that change the way we think about public spaces that we see and experience every day. Recently, there was some pretty cool "yarn bombing" in Highland Park, Ciclavia took over our public streets, a giant Fork in the Road in Pasadena last year, and tons of other art around Southern California. Sometimes we just have to go on those unmarked trails in Elysian Park to find them!
Check out Ryan Wade's art and sculptures along with other installations at L.A.C.E., located at 6522 Hollywood Boulevard
Gallery Hours: Wednesday – Sunday 12 noon – 6:00 pm, and Thursdays 12 noon – 9:00 pm
Suggested donation $3, Members free.
https://echoparknow.com/wp-content/uploads/2020/04/EPN_Logo_600px.png
0
0
Kelly
https://echoparknow.com/wp-content/uploads/2020/04/EPN_Logo_600px.png
Kelly
2010-10-19 13:09:23
2010-10-20 09:56:06
That random public art in Elysian Park…