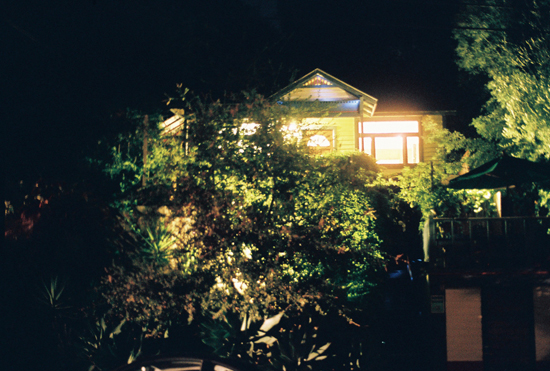 We don't normally write a whole lot about real estate here in Echo Park, but it's on our minds all the time since we got married and have started to think we could buy a place in Echo Park. This particular piece of property caught our eye because, well, it's just so COOL! There aren't that many places that are so self-sustainable in Echo Park that you could hide out through a zombie apocalypse.
Although a zombie apocalypse isn't why this home is super green – owner Michael Jacob Rochlin told Echo Park Patch he spent $100,000 converting the 1922 bungalow into a "green" home. The property features a tankless water heater, gray water appliances, an organic vegetable garden, drought-tolerant landscaping, rainwater harvesting, ten composters, and a plant nursery. The property is 10,000 square feet total, and in addition to all the delicious fruit trees is a certified farm and wildlife habitat.
I can also see why the current owner, who is an author and historian, wrote three novels and compiled two photographic essays while living there – there's a gorgeous 225 square foot yurt retreat in the far corner amongst the trees. Though the place is only a 1 bedroom/1 bath at 700 square feet, there's a studio in addition to the main house, and plenty of porch space to chill. Oh yes, and it's listed at only $399,900 – which, for safe and quiet Lake Shore, is a good deal.
Enough with the sales pitch, there's an open house tomorrow, Sunday, January 15, hosted by listing agent Darren Hubert from 1:00 – 5:00 pm. The address is 2006 Lake Shore, and you can view more photos of the place (yurt and all) by clicking here.
https://echoparknow.com/wp-content/uploads/2020/04/EPN_Logo_600px.png
0
0
Kelly
https://echoparknow.com/wp-content/uploads/2020/04/EPN_Logo_600px.png
Kelly
2012-01-14 18:07:08
2012-01-14 18:07:08
Sunday: Open house for Echo Park eco-home, complete with yurt