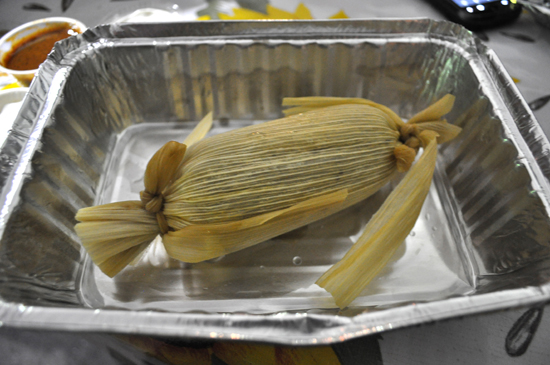 This Christmas, we're really excited to start a new family tradition by chucking the whole turkey idea, replacing the traditional holiday meal with some really great, local tamales. Of course, there are a lot of great places to get tamales in Los Angeles. Celaya Bakery in Echo Park and Mama's Hot Tamales Cafe are probably the most well-known in the immediate area, but we're adding "White-Girl Tamale Maker" La Guera Tamales to the mix as a healthy and sustainable source for a new really tasty new family tradition.
The owner, chef, and self-proclaimed "white-girl tamale maker" is a sweet, soft-spoken but passionate Echo Park resident named Deborah. Her tamales are hand-tied, the salsas made from scratch, and none of her products have any lard, trans-fats or gluten, and are made of local, organic ingredients whenever possible. To Deborah, the corn is the most important organic ingredient – it is non-GMO, organic/pesticide-free, and really delicious. She describes the masa as being a little coarser than store-bought masa (which is highly processed), but it is definitely lighter and fluffier – it doesn't leave that "brick" in your tummy feeling that over-processed tamale ingredients can do.
I thought I liked tamales before, but let's face it – I'm not a traditional tamale type of eater. I don't eat red meat or pork, and frankly I'm not a lot of meat at all these days; I grew up in a health food store, eat tofu, and probably might be labeled as a some kind of hippie/hipster. But I also know good healthy food – so we tried the Blue Corn Jalapeño tamale, and LOVED it.
The jalapeños in the Blue Corn tamale I ate are from Tutti Frutti Farms, which you can find at the Atwater Village Farmers' Market. I topped it with sour cream and her homemade salsa (which also uses ingredients from the local farmers' markets), adding another layer of flavor that just makes my mouth water. One Yelp! reviewer sums it up nicely for us: " Oh my god oh my god oh my god oh my freakin god these things are delicious."
Although Deborah's professional background is mainly in business rather than cooking, she learned the secrets of making tamales from a tamaleros family from Veracruz, Mexico. She also worked in Mama's Hot Tamale Café through their business training program. The company tagline, "merging tradition with nutrition," might help you more traditional tamale eaters digest her concept. It's really important to her that the tamales are artisanal, not produced by a big factory.
For the carnivore, you have the choice of Organic free-range chicken or family farmed pork. There's the Blue Corn Jalapeno and cheese for the vegetarians. The vegans (which are very excited about her tamales) have Spinach and Shiitake Mushroom Sesame Kale, Blue Corn Jalapeno and Dayia, and "Sasquash" (baked yam and butternut squash masa with sweet red bean filling). She also has vegan dessert tamales with fillings like FigNana, Ginger Pear, and Strawberry, that also make really great breakfast options.
Keep in mind that La Guera Tamales are not the cheap, frozen food aisle type of meals – although some might cringe at the $5 each price tag, it's actually a pretty cheap meal as they will fill you up! A half dozen gets you a slight discount at $29, and a dozen for $58.
Where you'll win at price-wise is the free delivery: Deborah personally delivers tamale orders for free to local Los Angeles locations. This works out for customers mainly because as she's delivering to a regularly scheduled customer, she'll let you know on her email list if she's going to be in your neighborhood – that way she can deliver (for free) an order as small as two tamales.
Holidays are a busy time of year – but Deborah still delivers on Christmas Day. She just started offering nationwide shipping for those customers outside of LA who are craving La Guera Tamales (make sure to order by December 18). For local delivery, place your order with La Guera as soon as possible! Placing an order is easy online, but you can also find Deborah hanging out with her friend, The Flan King, at the Echo Park Farmers' Market every Friday.
Go to gttamales.com to order and for more info!
https://echoparknow.com/wp-content/uploads/2020/04/EPN_Logo_600px.png
0
0
Kelly
https://echoparknow.com/wp-content/uploads/2020/04/EPN_Logo_600px.png
Kelly
2011-12-12 15:55:03
2011-12-12 15:55:03
Echo Park tamales promise a healthy, sustainable new tradition for the holidays