You may have read that Echo Park's famous goose Maria (made famous by an OK Go music video, then a Facebook page, then the brilliant snowball effect that comes with celebrity life in Los Angeles) was moved to the Los Angeles Zoo in preparation for the upcoming Echo Park Lake rehab project this summer. Well, as it turns out, Maria is actually a boy! The Zoo learned of the official gender while doing a checkup after the gander arrived. Dominic Ehrler told the LA Times, "He's Mario now. But I'll call him Maria if he doesn't respond to Mario."
In case you're wondering, Dominic will be able to visit Mario/Maria.
————————–
LA TACO @ STREET ART POP UP! from LA TACO on Vimeo.
Street Art Pop-Up Store opened last Friday, March 4 at 1461 1/2 W. Sunset Blvd. (formerly Warwick Vintage Store). The temporary art space will be featuring new artwork daily from a variety of artists, including Bigfoot, Robots Will Kill, Evil Design, Shepard Fairey, and more.
The temp shop is open daily from noon to 7:00 pm. Check out the video about from LA Taco.
————————–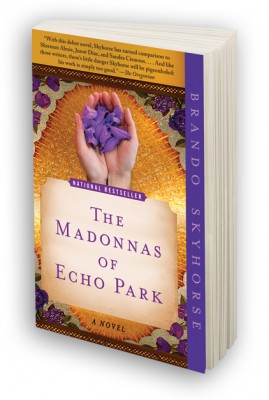 We found out on Tuesday this week that Writer Brando Skyhorse's "The Madonnas of Echo Park" won the Hemingway/PEN Award for first fiction.
Congrats to Brando Skyhorse! And yes, the book is still on my New Years Resolutions to-do list, but I'll be stopping by the library fairly soon to grab a copy.
https://echoparknow.com/wp-content/uploads/2020/04/EPN_Logo_600px.png
0
0
Kelly
https://echoparknow.com/wp-content/uploads/2020/04/EPN_Logo_600px.png
Kelly
2011-03-10 11:13:56
2011-03-10 11:13:56
Echo Park in the news