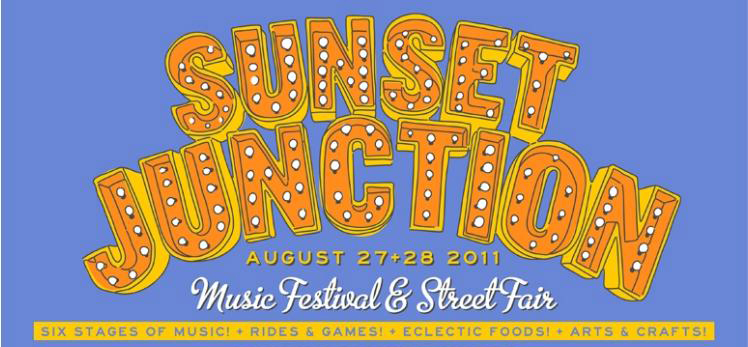 You've probably heard the news already, but it looks like the 2011 Sunset Junction may just actually be canceled due to permit issues (yep, just three days before!). However, there hasn't been a final confirmation from the event organizers – the website is down, The Eastsider LA says they're still waiting, and even though both LAist and LA Weekly seem to have given up, the LA Times just posted a statement from the organizers without a clear green light/red light confirmation.
Should it get canceled… (we mean officially of course) Origami Vinyl, which has had a role in this year's Sunset Junction, got us thinking about how Echo Park can help absorb some of the gigs meant for the now-canceled Sunset Junction this weekend. The vinyl records shop tweeted today:
We think @theechola + Stories Books/Cafe + Echo Park Independent Co-Op + Us should book these SJ bands and get a lil block party goin…
Echo Park Independent Coop is down to host a block party as well.
I say, do it! Would be great for the businesses and the artists involved.
UPDATE:
If Sunset Junction does end up not happening, locals have already started organizing an alternative: The First Annual No Function Junction (and they have a Facebook page!).
What can you expect? Performances by The Ukelele Orchestra of the Western Hemisphere, former Sunset Junction bands at the 4100 Bar and the Living Room, and magic by Christopher Wonder. Also, "Don't forget to pick up your complimentary compliment at the 'Complimentary Compliments' booth with Sirocco Research Labs. Stop by ReForm School at Sunset and Hyperion to find out more details….Spread the word."
h/t The Eastsider LA
MORE UPDATES:
The Echo announced that The Butthole Surfers and 400 Blows will be playing there on Saturday.
Origami Vinyl will host Barrio Tiger on Saturday and Manhattan Murder Mystery on Sunday.
Stories Books and Cafe have the Damselles and the TC4 on Saturday.
E.P.I.C. will have the Black Apples on Sunday.
https://echoparknow.com/wp-content/uploads/2020/04/EPN_Logo_600px.png
0
0
Kelly
https://echoparknow.com/wp-content/uploads/2020/04/EPN_Logo_600px.png
Kelly
2011-08-24 15:48:25
2011-08-24 19:02:05
Echo Park may absorb some canceled Sunset Junction gigs