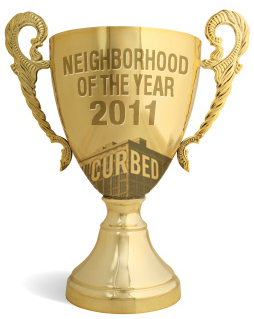 The annual Curbed Cup is back – where website Curbed LA pegs sixteen neighborhoods against each other, competing for LA's best neighborhood by popular vote over several rounds. Echo Park went up for the challenge last year and lost to Old Bank (ultimately, Hollywood took the title).
Today, Curbed LA features Echo Park versus North Hollywood in round one. Here's how Curbed LA describes our little neighborhood:
"What is this, 2006?" you're surely asking. Yeah, yeah, Echo Park already happened (even the LA Times discovered it late last year), but all those hipster move-ins were just prelude to the bigger and badder gentrification now underway. This year, a tiny 1881 bungalow went for $695,000, a hipster flip went for $739,000, and Heyday Partners' Dick+Jane townhouses both sold almost immediately for asking or close to it. The Smurf Village/Durbin and the small lot subdivision Morton Village both got reanimated this year, as did the Metropolitan Water District apartments on a neglected side of the neighborhood. EP's namesake lake was drained for a rehab this year and even snooty Conde Nast Traveler wanted in on the neighborhood action.
So far, Echo Park has the lead at 65%. Click here to vote!
https://echoparknow.com/wp-content/uploads/2020/04/EPN_Logo_600px.png
0
0
Kelly
https://echoparknow.com/wp-content/uploads/2020/04/EPN_Logo_600px.png
Kelly
2011-12-15 17:16:08
2011-12-15 17:16:08
Vote for Echo Park for Curbed's neighborhood of the year