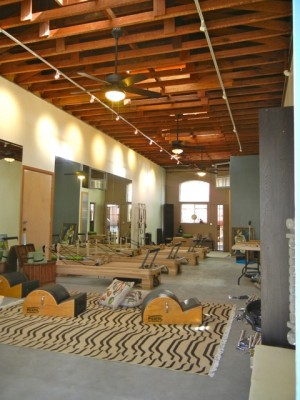 Echo Park has recently become quite the beer destination, but who knows – maybe it'll turn into the Yoga/Pilates/arts destination!
13-year Echo Park resident Tannis Kobrinsky saw the "for rent" sign next to the Yogala Echo Park space (in Peter Shire's building) and, as she told us in August when construction started, "I knew this was the time and place. I'm extremely excited to be able to make this happen this year!" She wanted a place for Pilates classes as well as a dedicated art space, so that when you think about the studio, you think of it as a "wellness and cultural Salon." Thus was born Pilates & Arts!
Tannis gets major kudos for her long-time residency in Echo Park, for opening the new studio, and for her major Pilates bod which you can check out on her website, HealtHabitravels.com (she's inspiring me to get in shape!). While a grand opening party is planned for November (with a joint block party on November 13), this weekend she'll be hosting a soft opening with a free "meet the machine" event so that any Pilates newbies won't feel intimated trying out those machines like Pilates reformers, springboards, wunda-chair, and other exercise props with equally funny names.
You can expect traditional Pilates classes on the apparatus only in private, partner and group sessions, while Tannis will continue teaching Pilates mat classes at Yogala next door. Additionally, there will be a dedicated art wall in the studio along with intimate art gallery opens, art-related workshops and events during the studio after-hours.
You can sign up for the free "meet the machine" event on Saturday and Sunday, October 15 and 16, by calling (323) 913-9460 or email info@pilatesandarts.com. Classes will be held every hour between 9:00 am and 4:00 pm, and are limited to six people per hour.
Tannis wants to keep us budget-conscious folks in mind – Meet the Machine workshops will be held after the opening at $30 for three sessions. October is also a great month to sign up with Pilates & Arts – she is currently offering a discount on cash or check payments this month – 3 private session for $150, 3 partner sessions for $90, and 3 group sessions for $75 (must have prior experience practicing Pilates on the apparatus).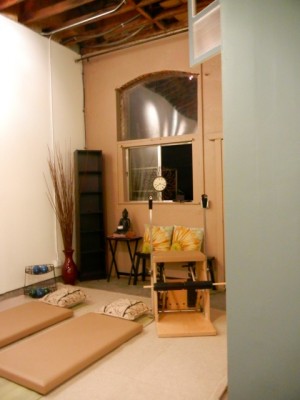 Pilates & Arts
1844 Echo Park Avenue
Reserve a spot: 323-913-9460 and info@pilatesandarts.com
Hours:
Monday – Friday: 7:00 am – 8:00 pm
Saturday: 8:00 am – 4:00 pm
Sunday: 9:00 am – 12:00 pm
Rates run $30 a person for a group class of 3-4 people max (or a series of 10 for $270), $40 per person for a partner class (or a series of 10 for $350), and $65 for a private class (or a series of 10 for $600)
Check the Facebook page for detailed hours on classes, and costs.
https://echoparknow.com/wp-content/uploads/2020/04/EPN_Logo_600px.png
0
0
Kelly
https://echoparknow.com/wp-content/uploads/2020/04/EPN_Logo_600px.png
Kelly
2011-10-11 09:00:09
2011-10-10 22:38:57
Time to get fit: Echo Park Avenue gets new Pilates studio