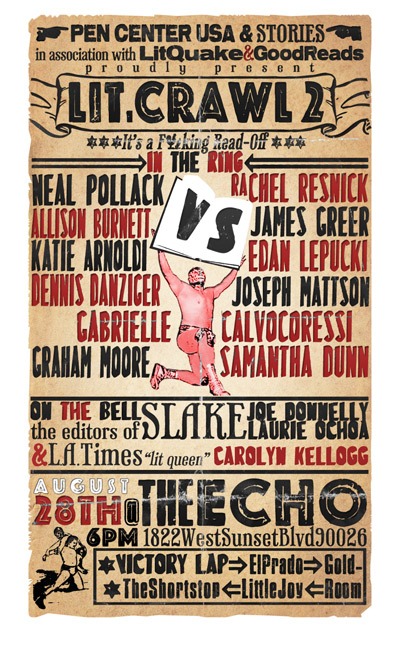 There's no better way to meet fellow Angeleno book-lovers and authors, and participate in a bar crawl at the same time!
Lit Crawl 2: It's a F@cking Read-Off is an event put on by Pen Center USA and Stories Books (and in association with LitQuake and Good Reads). It starts at The Echo on Saturday, August 28th at 6:00 pm, where 11 authors will read their 8-minute compositions and the audience judges the work's "originality, spirit and lyrical transcendence." The louder the audience, the better the chance that author wins the read-off.
After the main event (which has no entry fee, by the way), the bar crawl starts and you'll head to El Prado, The Gold Room, The Little Joy and The Shortstop. But you'll need to know where to go and when, so follow PEN's Twitter to get live crawl updates.
Stories Cafe is also hosting a couple of different things if you need a break from the crawl. Also at 7:00 pm they are hosting a "Why He's My Ex" (by Krishna Devine and Jessica Hill) party, signing, photo taking, and Colt 45. At 8:30 pm the Lit Crawl 2 gang swings by for some beer, books and an open reading,
MCs are Laurie Ochoa and Joe Donnelly (editors of Slake Literary Journal) and Carolyn Kellogg of the Los Angeles Times.
Authors:
Katie Arnoldi
Allison Burnett
Gabrielle Calvocoressi
Dennis Danziger
Samantha Dunn
James Greer
Edan Lepucki
Joseph Mattson
Graham Moore
Neal Pollack
Rachel Resnick
Stories Books and Cafe is located at 1716 West Sunset Blvd.
The Echo is located at 1822 West Sunset Blvd.
https://echoparknow.com/wp-content/uploads/2020/04/EPN_Logo_600px.png
0
0
Kelly
https://echoparknow.com/wp-content/uploads/2020/04/EPN_Logo_600px.png
Kelly
2010-08-25 11:23:36
2010-08-26 16:55:31
Lit Crawl2 at The Echo