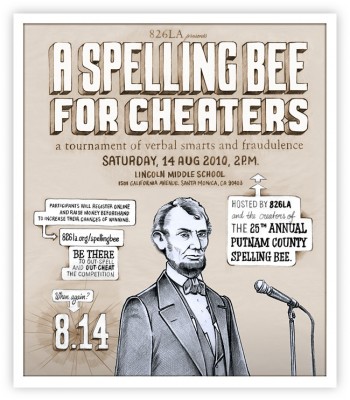 Spelling Bee for Cheaters, a fundraiser for 826LA's many programs that help kids in Los Angeles get free tutoring (among other things), is just two days away! Last chance to get your donations in to help the teams out – the money raised helps each team order from a menu of cheats, helping them do better in the competition and helping 826LA raise more money!
We do have some Echo Park residents participating in the event: Ashley Atkinson, along with two other Echo Park residents, belong to the group called "Marmoset There'd Be Days Like This." So far, the team has raised almost all of its needed funds, but still needs a little bit more. To donate, you donate to an individual on that team, so to help our Echo Park residents I suggest you donate to Ashley by clicking here. A little bit goes a long way, so $10 or $20 will help!
The spelling bee will take place on Saturday, August 14 from 2:00 to 6:00 pm at Lincoln Middle School in Santa Monica. This year, Spike Jonze, John Krasinski, Judd Apatow, Dianna Agron, and others are scheduled to appear.
Click here to buy tickets to the event (admission is $25.00 plus online fees).
https://echoparknow.com/wp-content/uploads/2020/04/EPN_Logo_600px.png
0
0
Kelly
https://echoparknow.com/wp-content/uploads/2020/04/EPN_Logo_600px.png
Kelly
2010-08-12 12:02:13
2010-08-12 12:02:13
Last chance to donate to Spelling Bee for Cheaters