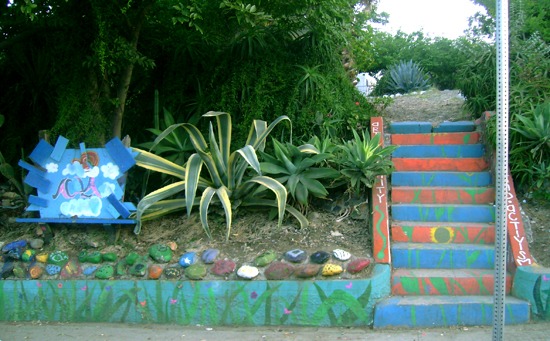 Spiraling Orchard is one of those hidden secrets you never knew existed. Its colorful entryway stands out amongst the compact residential homes along Court Street in Echo Park, but what is it?
What used to be a big empty lot is a park once owned by LASUD, it was taken over and in 1996 made it into an outdoor classroom, and generally a place where kids can go to do homework, arts and crafts, and other programs through ACLA (Arts… Community… Land… Activism…). According to its website, "ARTScorpsLA (ACLA) projects teach people to care for their places: by actively engaging the parks – making them and then using them – people attain a genuine connection with these urban places."
Some residents might remember Spiraling Orchard as the site where four-year-old Roberto Lopez was shot and killed while standing in front of the park in January of 2009. But things are still going on at the park, and we thought we'd update you on a few things to keep your eye out for.
Every Tuesday from 2-5:00 pm, kids can stop by for the graffiti club or homework help. This fall, ACLA started hosting art and drawing workshops led by Ayumi "SANO" Chisolm. Though the first workshop started in September and ends in November, the second section of the workshop starts in January and ends in the beginning of May. The workshop "utilizes elements of classical drawing methods with contemporary elements of Hiphop style graffiti art for at-risk youth and young adults."
Fall 2010 will see the return of Lisa Nuñez's "Food Justice & Culture" workshops for elementary school-aged kids. They also have an annual Dia de los Muertos dinner and celebration in October, but no date has been scheduled yet. This fall they also hope to dedicate the mural that Spiraling kids along with families from all over California have been painting for almost a year under lead artist Wenceslao Quiroz, located on Court and Bixel.
And of course, anyone can always use the space for youth bands to practice, or to host your workshops.
I really recommend going and checking it out, it's a really interesting part of town and the park itself is just an incredible gift to Echo Park.
For more information about anything I mentioned above, you can contact the ACLA at ACLA213@gmail.com or (323) 474-6905.
Spiraling Orchard is located at 1246 Court Street.
https://echoparknow.com/wp-content/uploads/2020/04/EPN_Logo_600px.png
0
0
Kelly
https://echoparknow.com/wp-content/uploads/2020/04/EPN_Logo_600px.png
Kelly
2010-09-23 08:00:19
2010-09-30 12:12:34
Echo Park's Hidden gem: Spiraling Orchard park