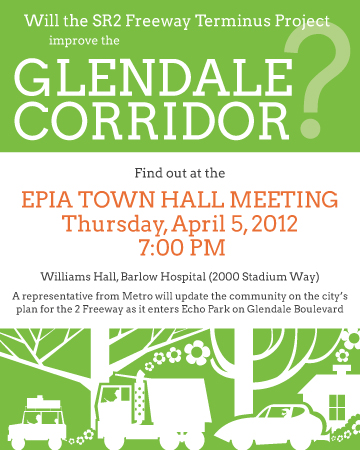 Imagine what it would be like if the 2 Freeway, right where it dumps onto Glendale Boulevard, were a smooth flow of traffic each day, from the freeway itself and down Glendale Boulevard. Exiting the freeway, cars would slowly make their way (at a reasonable speed) into Echo Park.
As if!
When they first started building the 2 Freeway way back in 1959, it was intended to continue all the way through Echo Park to the 101 Freeway. The community said no to extending the freeway, and the flyover that was initially supposed to be a temporary flyover remains today.
Unfortunately, there is an incredible amount of unplanned-for congestion. For decades now, Metro and community members, groups and activists have been planning and re-planning what to do with the SR2 Terminus. The Echo Park Community Action Committee (EPCAC) and the Echo Park Improvement Association have long been a part of the design process for the terminus, coordinating the council office, distributing petitions, and offering community-supported recommendations for the renovations.
However, last year Metro decided to go its own route with a "hybrid" design despite community opposition. The plan would remove all parking on the west side of Glendale Boulevard south, creating a big parking and access issue for businesses along that corridor. It's also a silly proposition – existing no-parking restrictions during high-traffic times don't solve the congestion problem.
The hybrid plan includes removing the left turn lane from the off-ramp on the east side of Glendale Boulevard, so no more access to Glendale Boulevard south from that ramp.
In case you're not horrified enough, they are also proposing putting up a few sound walls, including around the St. Teresa of Avila school, and along Allesandro Street (pictured) – to the dismay of neighbors.
The bottom line is the project (the "hybrid" version) is not an improvement to what we have now.
Tonight, LA Metro will be the guest speaker at the Echo Park Improvement Association town hall meeting, hopefully providing the community with some updates since we last heard from them in 2011. This is an issue that affects all of Echo Park, so be there!
Echo Park Improvement Association town hall
Thursday, April 5 at 7:00 pm
Williams hall at Barlow Hospital (2000 Stadium Way)
https://echoparknow.com/wp-content/uploads/2020/04/EPN_Logo_600px.png
0
0
Kelly
https://echoparknow.com/wp-content/uploads/2020/04/EPN_Logo_600px.png
Kelly
2012-04-05 13:49:40
2012-04-05 16:20:10
What will an "improved" 2 Freeway Terminus look like?