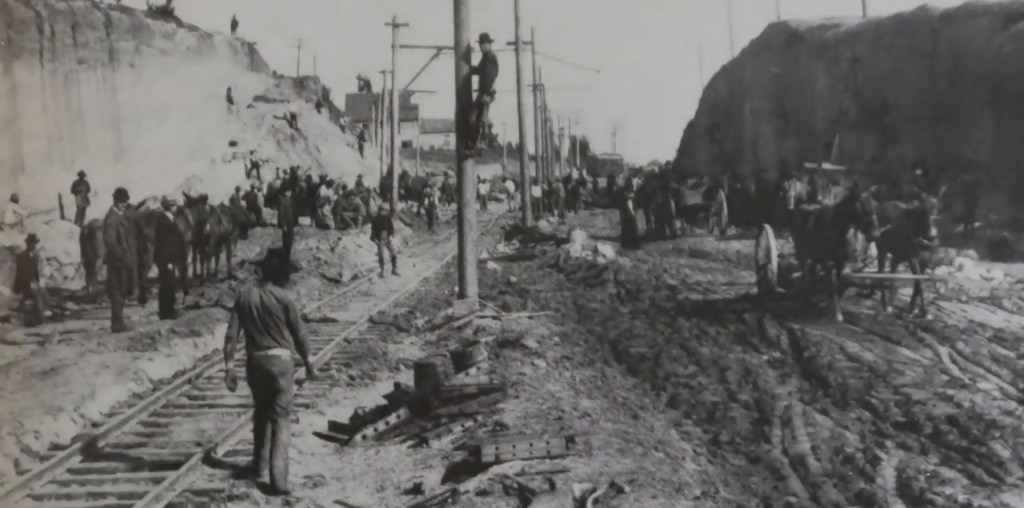 Echo Park resident, historian, and contributor to The Eastsider LA Rory Mitchell explores the history behind the sandstone cliffs that make up the west end of Echo Park as you drive into Silver Lake on Sunset.
Apparently this section has a pretty interesting history – in 1887 an ostrich farm decided to build a railway to its new Griffith Park location. Apparently the landowner of the section they blew threw, who knew about the project and initially supported it, was left "unsatisfied" with the work, sued the railroad company, and won. This landowner was lawyer George H. Smith, former Colonel in the Confederate Army and the grandfather of General George S. Patton.
Here's a little video about the project, via the Echo Park Historic Society:
The Cut is now home to some unique vendors selling various items on the weekends, and is often plagued by landslides, especially after the "big" rains we had a couple of years ago.
Click here to read the entire write-up by Rory on the My Historic LA website.
Related articles to also read:
A look into landslides reveals Sunset Boulevard's rocky past. The Eastsider LA, February 26, 2011
"The Cut" digs into the geology and history of Echo Park & Silver Lake. The Eastsider LA, February 24, 2012
https://echoparknow.com/wp-content/uploads/2020/04/EPN_Logo_600px.png
0
0
Kelly
https://echoparknow.com/wp-content/uploads/2020/04/EPN_Logo_600px.png
Kelly
2012-03-02 17:30:59
2012-03-02 17:30:59
Flashback Fridays: The sandstone cliffs that make up "The Cut"