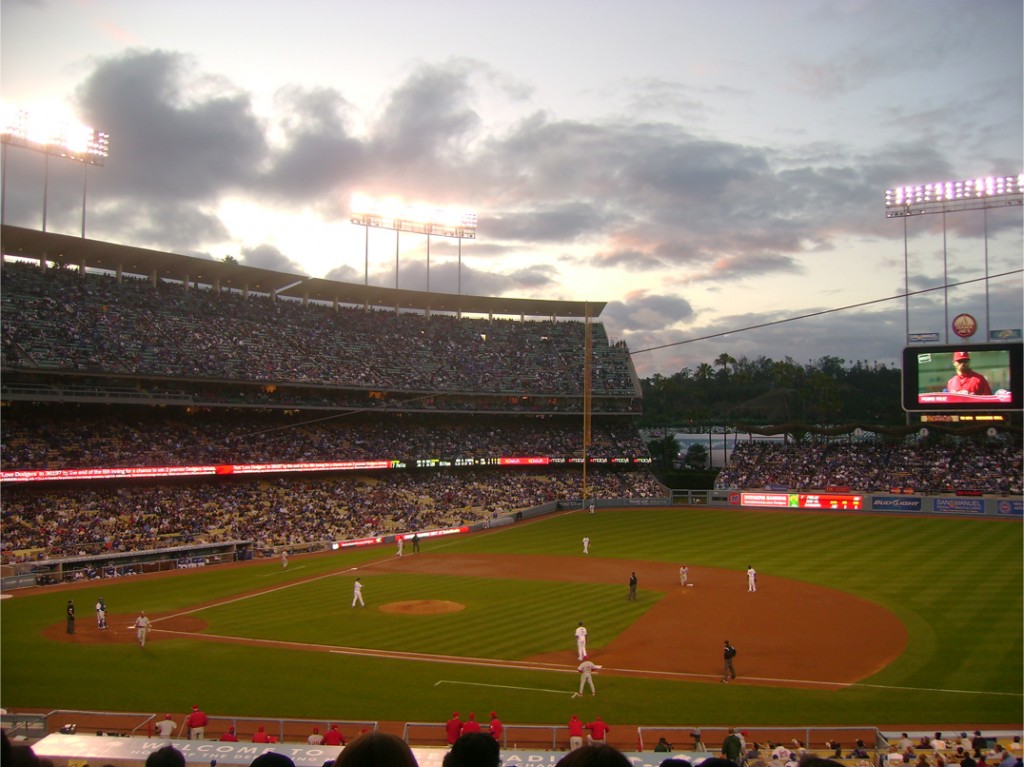 The new season of baseball at Dodger Stadium (with new owners!) is also going to be it's 50th year – that's right, the stadium opened in 1962 after bulldozing a whole neighborhood in Chavez Ravine.
But we all know about that – so here's what you can expect in Echo Park if you're new to the whole Opening Day hoopla at Dodger Stadium, taking place on Tuesday, April 10 at 1:10 pm in a game versus Pittsburgh:
Pre-gaming: Tailgating has started as early as 7:00 am, loud music for us neighbors to hear included. But the LAPD will be in full force, arriving as early as 4:00 am to the command post, to crack down on any debauchery.
The Scott Avenue gate will remain open this season for outgoing traffic only on high traffic days (it was just re-opened a few years ago after being closed for a decade).
Gates open at 10:00 am – which could be a good thing or a bad thing.
Pregame ceremony starts at 12:30 pm, and will include a military flyover 10 minutes before the start of the game
As in past years, the Dodger Stadium Express Metro service will run. Service will run from Union Station every 10 minutes, starting 90 minutes before the start of the game, after which it will run every 30 minutes. Ticket-holders ride free, or it'll cost you a mere $1.50 (better than the $15 parking fee!).
Traffic, traffic, traffic: Department of Transportation personnel will be deployed to certain intersections to help mitigate traffic issues. Since the game is pretty much sold out, the 50,000 fans that descend on Elysian Park will certainly cause some heavy traffic before and after the game, so plan appropriately!
As we mentioned, the LAPD will be out in full force to keep everyone under control – it's been just over a year since Bryan Stow was beaten to near death by some trouble-makers in Dodger gear, so we hope the same tragedy won't be made again.
Be sure to call the Neighborhood Focus line at 323.224.2636, or the command post at 323-344-5707 if you any issues.
https://echoparknow.com/wp-content/uploads/2020/04/EPN_Logo_600px.png
0
0
Kelly
https://echoparknow.com/wp-content/uploads/2020/04/EPN_Logo_600px.png
Kelly
2012-04-09 16:44:46
2012-04-09 21:23:46
What to expect in Echo Park on Dodger Stadium opening day