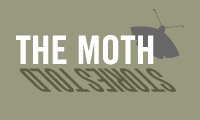 Check out The Moth GrandSLAM on Tuesday, March 2, at the Echoplex in Echo Park.
The Moth is basically an unscripted story telling hour – just the speaker telling a short story without notes about certain experiences (storytellers are provided with a theme). I have personally thoroughly enjoyed listening to some of the stories – often hilarious and heartwarming.
The event is described as follows:
The Moth presents the GrandSLAM, a battle of wits and words – fierce, hilarious, heartbreaking and all points between. Listen as ten StorySLAM champs tell tales of uncharted territory. Stories of new places on the map or in the mind.
The Moth is dedicated to finding intriguing people to tell inspired stories.  At The Moth StorySLAM, those people find us. On this night, using words as weapons, they word- it-out to determine The Moth's LA GrandSLAM Story Champion.
https://echoparknow.com/wp-content/uploads/2020/04/EPN_Logo_600px.png
0
0
Kelly
https://echoparknow.com/wp-content/uploads/2020/04/EPN_Logo_600px.png
Kelly
2010-02-24 17:00:16
2010-02-24 16:45:52
The Moth GrandSLAM at Echoplex