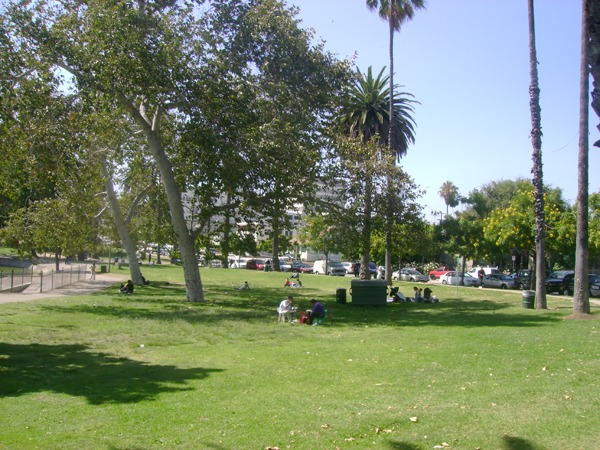 Walking around Echo Park Lake yesterday was an experience residents haven't seen in quite a while on a Sunday: green grass occupied by picnickers, families, and a few necking lovebirds. The northern end of Echo Park Lake was really, really quiet with the exception of the occasional jingle from an ice cream cart bell. It seems that word got around after last week's "crack-down" at Echo Park Lake, during which officers cited vendors for soliciting on public property. Even though just a few citations were issued, it certainly had an effect.
Residents and The Eastsider LA reported yesterday that a few Rampart Division patrol cars and officers had posted up throughout the day on various corners of the Lake. They were ready to enforce not a soliciting on public property violation like last week (which it seems may not be entirely and legally applicable), but for those who didn't have resale licenses. Deputy City Attorney Andre Quintero seemed a bit surprised at Thursday night's Echo Park Improvement Association meeting when told about the previous Sunday's activity. Having worked on this issues for about a year now (in relation to the city law that was overturned when Venice Beach activists sued for free speech violations), he wasn't sure whether or not a soliciting on public property violation applied to the Echo Park Lake vendors.
Those who have been actively working on clearing the vendors from Echo Park Lake on Sunday are relieved to "have the park back." Other residents might have mixed feelings about losing the vendors from the Lake because, really, who cares if someone's trying to make a buck in this economy? But arguments seem to always come down to one thing: It's a lake, it's a park, and that's what it should be used for.
I recommend taking a gander through the article published yesterday by The Eastsider LA, and decide for yourself whether or not it's a good thing to cite vendors at the lake.
Related articles:
"Police try a new strategy to sweep out Echo Park Lake swap meet vendors." August 8, 2010, The Eastsider LA
"Vendors at Echo Park Lake get the boot." August 1, 2010, Echo Park Now
"The many facets of the Echo Park Lake swap meet." March 24, 1010, Echo Park Now
https://echoparknow.com/wp-content/uploads/2020/04/EPN_Logo_600px.png
0
0
Kelly
https://echoparknow.com/wp-content/uploads/2020/04/EPN_Logo_600px.png
Kelly
2010-08-09 12:18:58
2010-08-09 12:18:58
A huge difference at Echo Park Lake yesterday