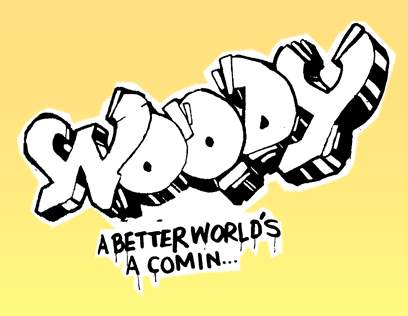 The Trailer Trash Project (a Pasadena Arts Council's EMERGE Fiscal Sponsorship Program) is celebrating the 100th birthday of folk artist Woody Guthrie. And because he was a resident of Echo Park, what better way to have a celebration in the neighborhood!
The celebration is an all-day event tomorrow, Saturday, July 14, 2011, with art, music, and other family-friendly activities. The schedule is as follows:
Children's Concert and Storytelling + Sign Making + History Breakfast
Blues musicians S.S. Jones plays Lead Belly songs for children. Woody Guthrie greatly admired Lead Belly and valued his friendship. Other musicians will play some of Woody's many children's songs as well as some of their own compositions. Dancers help out with movement.
El Centro Del Pueblo
10:00 am – 12:00 noon
Afternoon Picnic + Street Art + Writing Session + Song Writing
El Centro Del Pueblo
12:30 pm – 4:00 pm
Concert / Art Activities
El Centro Del Pueblo
12:30 pm – 5:03 pm
Second Line Parade
El Centro Del Pueblo
5:30 pm – 6:00 pm
An Evening of Music, Dancing & Activism / Skid Row Fundraiser:
The Echo
6:00 pm – 9:00 pm
$10 suggested donation
https://echoparknow.com/wp-content/uploads/2020/04/EPN_Logo_600px.png
0
0
Kelly
https://echoparknow.com/wp-content/uploads/2020/04/EPN_Logo_600px.png
Kelly
2012-07-13 15:42:25
2012-07-13 15:42:25
Woody Guthrie tribute in Echo Park Saturday