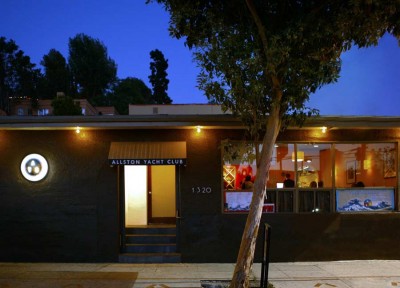 Allston Yacht Club is located at 1320 Echo Park Ave.
Dinner: Tuesday through Saturday at 5:30 pm
Brunch Sunday 10:00 am – 3:00 pm
Menus subject to change after post date.
Olives & Almonds – $4
Our own marinade of olive oil, rosemary, orange peel and garlic served with warm almonds roasted in cocoa, cinnamon & smoked paprika.
Frico – $6
Crisps of Parmesan Cheese and sliced shallot with tomato relish.
Scorched Shishito Peppers – $6
A mildly spicy Japanese pepper cooked quickly over high heat with a shot of Ponzu and a pinch of Bonito.
Sweet Potato Fritters – $6
A North African Treat, deep fried with minted Yogurt
Grilled Cheese – $6
Inquire.
Arancini – $6
"Little oranges" in Italian. Risotto stuffed with peas and mozzarella rolled in panko and deep fried. Served on a tomatillo salsa crudo
Fried Feta – $6
Double breaded, with a marinated tomato salad
Octopus – $6
Dry braised and marinated in olive oil, citrus, herbs and garlic.
Fried Calamari with Nuoc Cham – $8
Citrus, Soy, Fish Sauce & Chili.
https://echoparknow.com/wp-content/uploads/2020/04/EPN_Logo_600px.png
0
0
Faith
https://echoparknow.com/wp-content/uploads/2020/04/EPN_Logo_600px.png
Faith
2010-03-15 09:00:31
2010-03-09 20:35:24
Menu Mondays: Allston Yacht Club