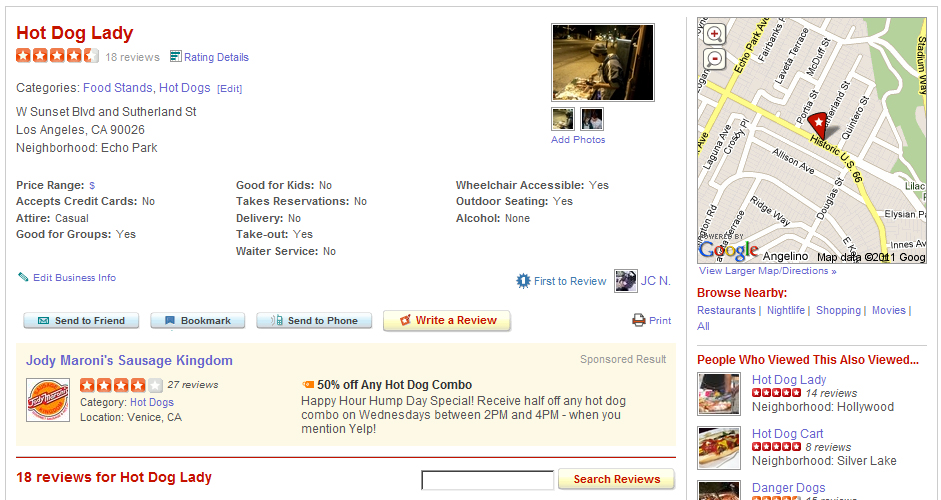 Some call them Danger Dogs, others (like me) avoid it all together, and even more Angelenos stumble in an altered state of mind out the doors of a bar late at night and are greeted by glorious smells of none other than bacon-wrapped hot dogs.
Others write poems about their favorite bacon-wrapped hot dog stand near the Short Stop on the "reviews" section of the … Hot Dog Lady Yelp page??
Yes, Hot Dog Lady has a Yelp page. According to the website's business info, the stand offers plenty of outdoor seating (the curb), is not good for kids, and is super affordable (but she doesn't accept credit cards, in case you're wondering). And the service is excellent. "There's nothing like binge drinking at Little Joy Shortstop or Gold Room (or my house, conveniently located around the corner) and then mumbling 'dos mas por favor, con todo' to my sweet sweet love, The Hot Dog Lady.  Ay, mi amor…." writes one reviewer.
How Hot Dog Lady got a Yelp page, or if she even knows about it, is a mystery. But she's got 4.5 stars, and hot dog that's pretty good.
https://echoparknow.com/wp-content/uploads/2020/04/EPN_Logo_600px.png
0
0
Kelly
https://echoparknow.com/wp-content/uploads/2020/04/EPN_Logo_600px.png
Kelly
2011-01-10 17:24:44
2011-01-10 17:24:44
Outdoor seating available at Echo Park's "Hot Dog Lady"