This Weekend's Event Flyers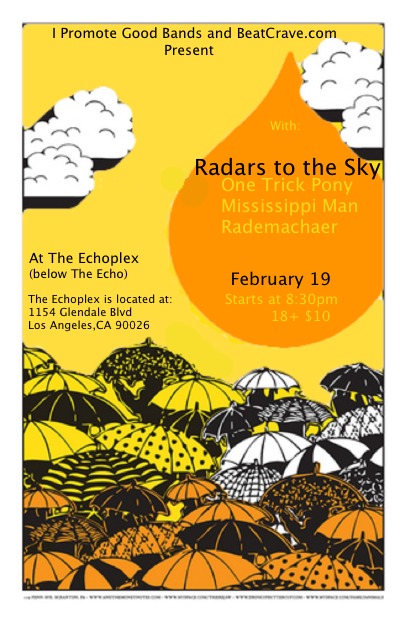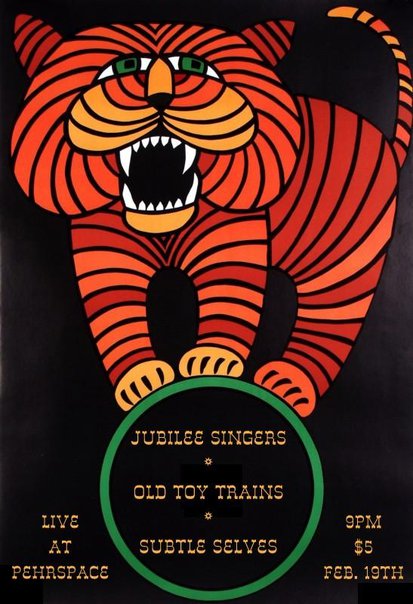 Here are a sampling of event flyers for this weekend. The post would be very long so I've split it up. Click the link below to see the rest. Have a good weekend!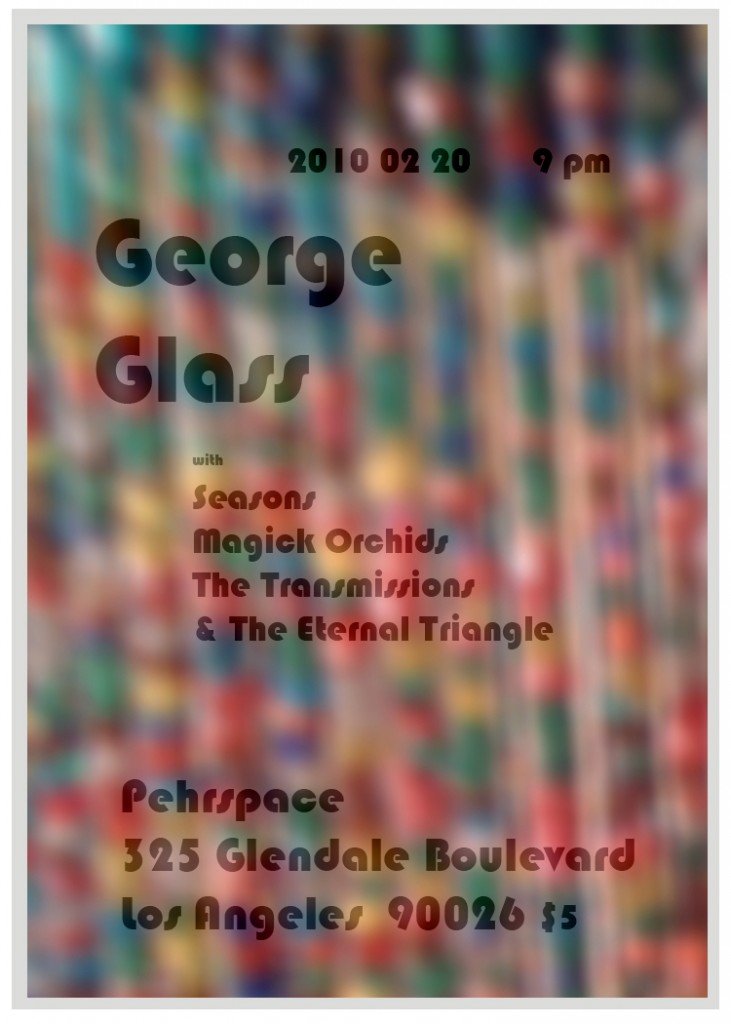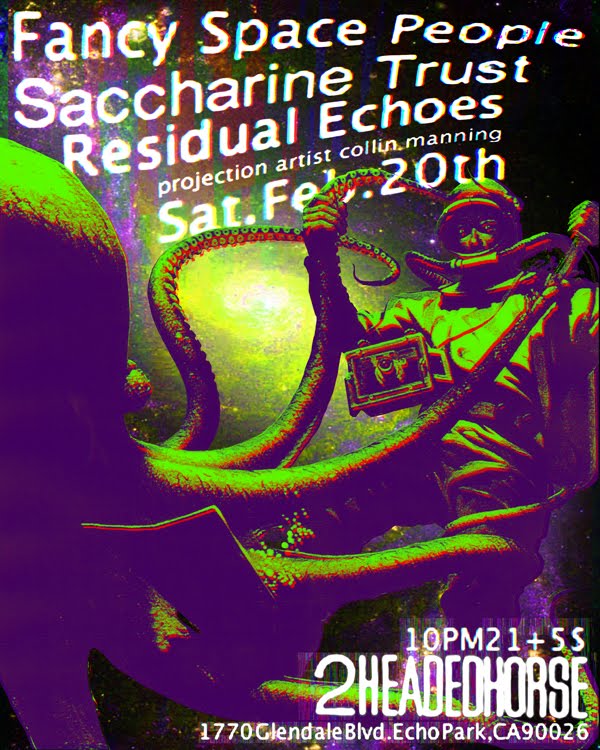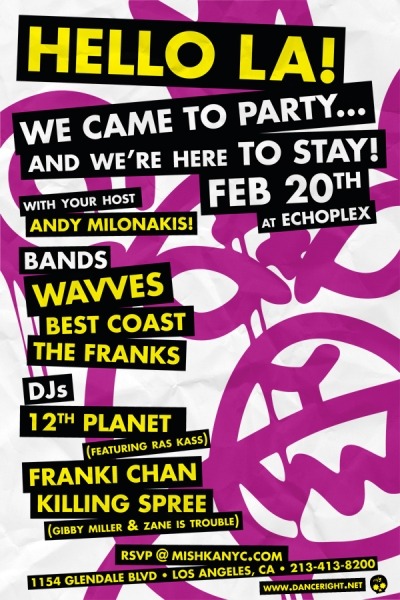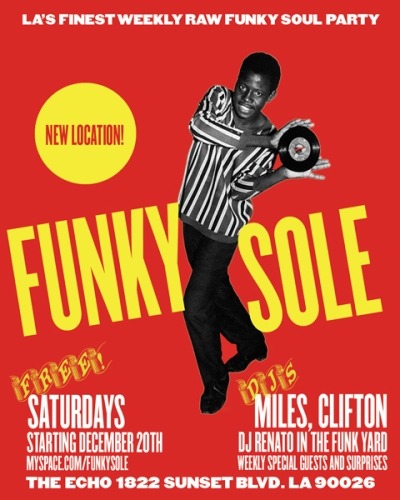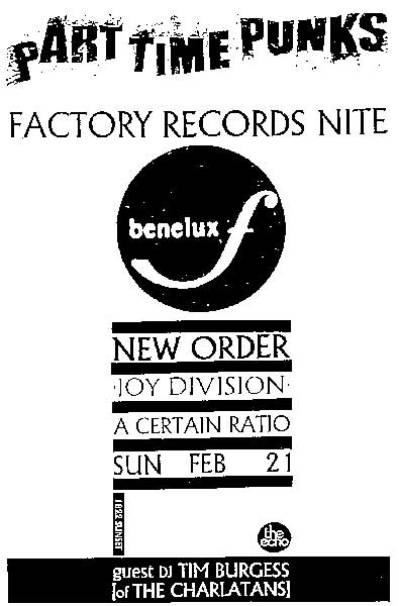 Here are the weekend events for Echo Curio:
Fri, Feb 19th – C-HORSE + THE LONESOME HEROES +
ROCKING HORSE PEOPLE + THE TERRAPIN

Alright, we have a delirious night of bands we've never had here before.  That is a
good thing, cuz lord knows there are lots of groups in LA, not to mention touring
around.  C-HORSE is the brainchild of Cecilia Enriquez, and with a little help from
her friends, she creates enrapturing pop gems out of thin air.  LONESOME HEROES
have some chill moments as well, swirling pedal steel into the smoky air, singing
bittersweetly to the darker corners of Middle America.  ROCKING HORSE PEOPLE
and THE TERRAPIN kick the psych guitar edge of the night up a notch.

www.myspace.com/starsinmybrains
www.myspace.com/theterrapin
www.thelonesomeheroes.com
www.myspace.com/rockinghorsepeople

Sat, Feb 20th – CHUCK DUKOWSKI SEXTET + INSECTS VS. ROBOTS +
THE SHRINE + VOODOO MERCHANT

Remember when rock bands used to rock, and sometimes roll.  Remember before
the posturing and make-up and special pedals and efx… CD6 is that band,
rampaging out of the primordial mist, wielding thunder god basslines and wailing
hurricane guitar washes.  INSECTS VS. ROBOTS will go down as the Prince and
the Revoution of the next generation, blowing the mind of the unborn everywhere.
THE SHRINE basically won the best band to play here last year in many people's
mind, basically blowing minds en masse.

www.myspace.com/chuckdukowskisextet
www.myspace.com/insectsvsrobots
www.myspace.com/shrinefuzz
www.myspace.com/voodoomerchant

Sun, Feb 21st – KICKING SKUNK + DAVID LEE PAULSON (aka MINIONS) +
DUALITY + WE

Micro-korg, delay pedal, lap top, cello, kazoo, behringer key amp, peavey tko65
bass amp, Amanda Courtney, DA Witter, 40 oz beer, Noise from Echo Park =
KICKING SKUNK… tonight is and always will be a total mystery.

www.myspace.com/birdsbeware
If you are having events that aren't showing up on this blog it's not because we don't care. We just don't know. Please email us your flyers and event posts and we will try to include as much as possible in future posts.
https://echoparknow.com/wp-content/uploads/2020/04/EPN_Logo_600px.png
0
0
Faith
https://echoparknow.com/wp-content/uploads/2020/04/EPN_Logo_600px.png
Faith
2010-02-19 19:24:52
2010-02-19 19:24:52
This Weekend's Event Flyers