Record Release Show at Echo Country Outpost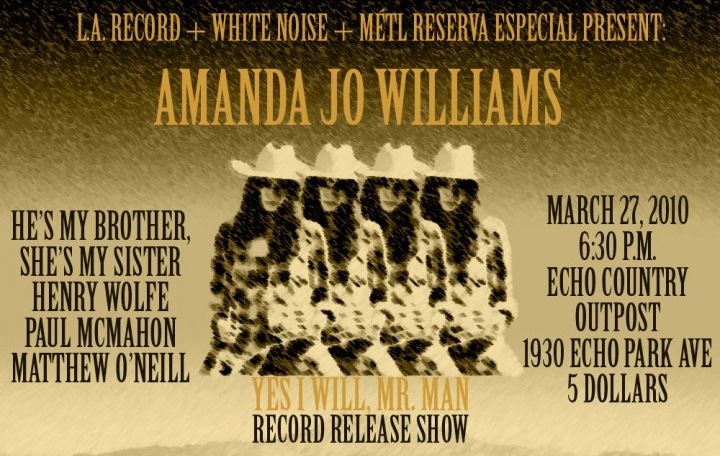 Echo Country Outpost is hosting the Amanda Jo Williams Yes I Will, Mr. Man Record Release Show on Saturday, March 27 at 6:30 pm.
5 Bands, $5 at the door, free tequila!
It's a romp in the woods with moonshine-soaked hillbillies fighting for love and the American dream. A banjo this time, a dancing percussionist next time, Amanda Jo notably has a musician surprise or two at each performance. For March 27, she'll have two stand-up bassists, a rhythm section, and, as always, the inimitable guitarist 5-Track, whose guitar howls and coos like a wolf on opium. The show gets even better with glam folk band He's My Brother She's My Sister, story-telling dreamer Henry Wolfe, as well as Woodstock folk artist and legend Paul McMahon, who taught Williams to play guitar, and the wild stomping Matthew O'Neill.
For more information about the bands, click below:
Amanda Jo Williams
He's My Brother, She's My Sister
Henry Wolfe
Paul McMahon
Matthew O'Neill
Presented by: L.A. Record & White Noise & Metl Reserva Especial
Click here to RSVP on the Echo Country Outpost Facebook page.
Echo Country Outpost is located at 1930 Echo Park Avenue
https://echoparknow.com/wp-content/uploads/2020/04/EPN_Logo_600px.png
0
0
Kelly
https://echoparknow.com/wp-content/uploads/2020/04/EPN_Logo_600px.png
Kelly
2010-03-26 20:00:38
2010-03-23 11:38:10
Record Release Show at Echo Country Outpost