Earth Week: Illegal Dumping
Getting rid of an old chair, couch, or other rubbish that just won't fit in your trash can? Don't just leave it curbside. The city will actually dispose of bulk items – for FREE.
If your bulk items still have some life left, consider donating to Out of the Closet thrift store in Echo Park, which will pick up your items for you, or Goodwill in nearby Hollywood. Otherwise, all you have to do is dial 3-1-1. Please call the service if you also see abandoned furniture around the neighborhood.
Paints, solvents, and computer equipment can be dropped off on Saturdays and Sundayat the nearest S.A.F.E. collection center in Glendale. Learn more here.
New transit ads this month in South LA encourage residents to report illegal dumping with a $1,000 reward. According to an LAist article posted earlier this month, it costs the city $12 million per year to clean up items dumped illegally. The reward money comes from a state grant provided to help the city clean up "chronic illegal dumping sites, increased surveillance of known problem areas, and public outreach for prevention."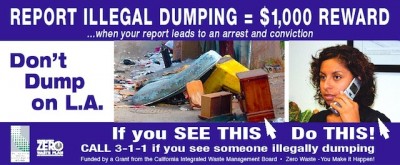 While Echo Park isn't nearly as bad as some of the South LA neighborhoods described in an LA Times article last year, we can keep it clean with one free phone call. You can also fill out a form online via the Bureau of Sanitation by clicking here.
https://echoparknow.com/wp-content/uploads/2020/04/EPN_Logo_600px.png
0
0
Kelly
https://echoparknow.com/wp-content/uploads/2020/04/EPN_Logo_600px.png
Kelly
2010-04-19 14:00:41
2010-04-19 14:00:07
Earth Week: Illegal Dumping