Echo Park Lake Rehab Project Meeting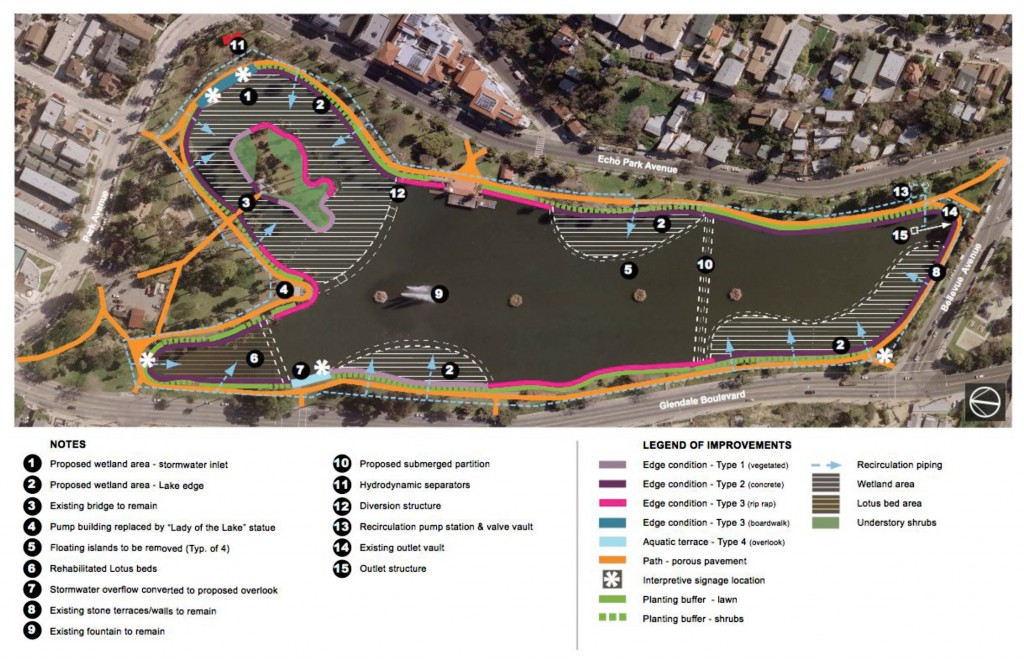 A  meeting on the Echo Park Lake Rehabilitation Project has been scheduled for Wednesday, August 4 at 6:30 pm at Barlow Hospital.
Pollution and much-needed updates to the filtration systems are behind the Prop O funded rehab project, which is scheduled for next year – the lake will be gated up in January 2011 in preparation for the construction, and in April construction will be at full speed ahead.  They will drain the 13 acre lake and haul out approximately 50,000 cubic feet of soil from the bottom, replace the lake liner, rebuild the wetlands, and replant other vegetation (including the lotus bed). They filtration systems will also be updated, as the lake does collect water runoff from the city, and will help reduce the amount of city water used to keep the lake levels high.
Wildlife activists and bird lovers have been concerned with the state of the migratory birds once the lake is drained. It seems a compromise has now been reached, and the engineers will include four temporary pools for migratory birds.
A draft Environmental Impact Report (EIR) was recently released, but is not yet available online. You can click here for the initial study on the City's website. Hard copies of the draft EIR are currently available at the following locations:
Echo Park Branch Library, 410 West Temple Street (available in the reference section)
Edendale Branch Library, 2011 West Sunset Boulevard
Office of Council President Eric Garcetti, Hollywood District Office, 5500 Hollywood Boulevard
Office of Council President Eric Garcetti, Glassell Park District Office, 3750 Verdugo Road
We will also post a downloadable version as soon as it's available.
The public is welcome to review the draft EIR and send comments by August 30 at 5:00 pm. Send comments to:
Via mail:
City of Los Angeles Department of Public Works, Bureau of Engineering, Environmental Management Group
Attn: Maria Martin
1149 S. Broadway, Suite 600, Mail Stop 939, Los Angeles, CA 90015-2213
Via fax to (213) 847-0656, Attn. Maria Martin
Via email to Maria.Martin@lacity.org
For more information about the upcoming event, feel free to contact Olga Morales at 213-485-5933, or email at Olga.Morales@lacity.org
Related articles:
"Cleaning up Echo Park Lake is going to be a big mess for residents," September 14, 2009. The Eastsider LA
"City engineers make room for bird baths during Echo Park Lake rehab project," July 15, 2010. The Eastsider LA
https://echoparknow.com/wp-content/uploads/2020/04/EPN_Logo_600px.png
0
0
Kelly
https://echoparknow.com/wp-content/uploads/2020/04/EPN_Logo_600px.png
Kelly
2010-07-16 09:30:21
2010-07-15 15:28:42
Echo Park Lake Rehab Project Meeting