Blood Drive and Health Fair tomorrow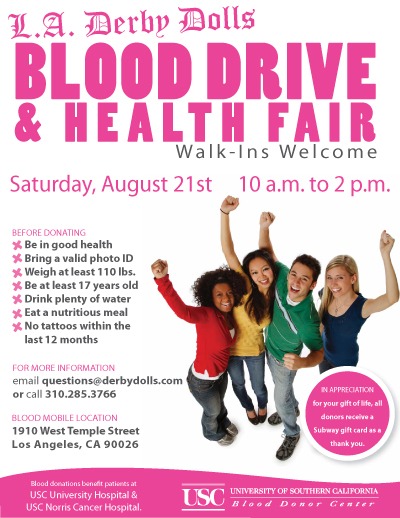 Before you head off to Sunset Junction this weekend (and especially before you hit the beer garden), stop by the Doll Factory in nearby Historic Filipinotown and donate some blood!
The L.A. Derby Dolls and Eric Garcetti's office have teamed up to host a FREE Blood Drive and Health Fair tomorrow, Saturday, August 21, from 10:00 am – 2:00 pm. Get there early – they expect over 500 residents!
Besides the blood drive, they will be offering free services, including:
Mammograms (email questions@derbydolls.com for an appointment)
Blood Tests – St. Vincent's Hospital
Diabetes Testing – St. Vincent's Hospital
Body Fat Testing – St. Vincent's Hospital
STD Testing – Planned Parenthood
Birth Control Information – Planned Parenthood
Referrals for Clinical Breast Exams and Gynecological tests – St. Vincent's Hospital
Bone Marrow Registry – Be The Match
6 massage therapists – Royal Thai Massage
Doll Repair Team – medical staff of Chiropracters, Physical Therapists and Acupuncturists, led by Dr. Rick Fox
Self Defense Workshop – Johnathon Blank
Body image Workshop – Hollywood Chapter, National Organization for Women
Proper Dental Care workshop – Western Dental
Nutrition Workshop – YMCA
Making Healthy Tamales Workshop – Mama's Hot Tamales
Free Food and Refreshments – Brooklyn Bagels, Masa, Mama's Hot Tamales, La Guerra Tamaleria, Ex Drinks, Tropical Cafe, Gigi's Cafe
MediCal Enrollment and Low Cost Insurance – St. Vincent's Hospital and Hollywood Sunset Free Clinic
Information on Free/Low-Cost Services – Department of Mental Health
The Derby Dolls will also give you a half-off coupon for the all-star bout on September 11 when you come to the Fair!
Second Annual Free Health Fair
Saturday August 21, 2010 from 10 a.m. to 2 p.m.
Doll Factory located at 1910 W. Temple St.
email questions@derbydolls.com for more info

https://echoparknow.com/wp-content/uploads/2020/04/EPN_Logo_600px.png
0
0
Kelly
https://echoparknow.com/wp-content/uploads/2020/04/EPN_Logo_600px.png
Kelly
2010-08-20 13:11:46
2010-08-20 13:13:03
Blood Drive and Health Fair tomorrow