Plenty of Echo Park businesses make the LA Weekly "best of" cut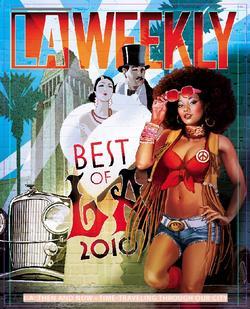 LA Weekly recently published its Best of LA 2010, the best spots for food, drink, shopping, nightlife, recreation, etc. Echo Park isn't a stranger to this list – quite a few spots made the cut in those categories (and boy are there a few!).
Check out the Echo Park spots that made the list, along with an excerpt from LA Weekly:
Bob Baker Marionettes: Best bob, stage and puppeteers
"Inside, the theater continues to provide the backdrop for a series of heartwarming stage productions, brought to life by the 86-year-old and his team of young puppeteers… A local institution, Bob Baker Marionettes is now the oldest operating children's company in L.A. While the puppets may be the ones drawing the crowds, it's Baker who still pulls the strings."
Elysian Park: Best Park Hidden in Plain Sight
"Compared with Griffith Park, which has great scrubby, Wild West–looking hiking trails, more of Elysian is domesticated and park-like while still maintaining a strong feeling of nature."
Angelino Heights Best Historic Neighborhood
"…Angelino Heights' proud, decades-long residents lend the place another level of solidity. Start at Carroll Avenue to experience the epicenter of tasteful, Victorian splendor, but work your way out from there, as architectural eye candy lies interspersed throughout this semi-circular neighborhood."
Echo Park Time Travel Mart: Best One-Stop, Head-Scratching Shopping
"Outside, the handwritten 'Out of order, come back yesterday' note taped to the slushy machine has been there since the beginning. The dinosaur eggs in the refrigerator still haven't hatched. It really is the most inconvenient convenience mart."
Rock Paper Salon: Best Hair Salon Experience for Men
"At RPS, you get the full experience that has made the young stylist an Eastside word-of-mouth success: great, modern hair advice, refreshments, friendly conversation and the solemn promise to never "make you metro unless you really, really want to."
The Fretted Frog: Best Un-Centric Guitar Store
"The Fretted Frog is the brainchild of French expat Roland Belloir (the "Frog") and his Echo Park shop is utterly relaxed, a haven for acoustic guitar fans and players to gather for impromptu jam sessions and between-strum banter. Belloir's stock features rare and hard-to-find brands, small companies that specialize in beautifully crafted instruments."
Iko Iko: The Odd and the Beautiful
"Scattered across minimalist-style tables made by Okuda — available for sale — are anything from misshapen, strangely elegant flowerpots to vegetable brushes that resemble potatoes to Hannah Keefe's chain jewelry, so intricately woven they look like textile. The aim here is to inspire, arouse curiosity and have fun. Who needs a $12 million stuffed shark when you have $12 spud-like scrubs?"
Lemon Frog Shop: Best Vintage Shopping Experience
"Oodles of well-labeled boots and shoes in every style line the floor, vintage jewels and Gucci purses peek out from corners and the dress racks are categorized not only by price (from $10 to $200) but by size … and they are modern sizes. Micki Curtis, who clearly possesses a knack for finding glorious and irreplaceable pieces, hosts numerous sales throughout the year and is, like the rest of her staff, incredibly helpful and polite."
Stories: Best Place to Meet a Cute Nerd
"Stories has beautiful cards, decent iced tea, an inviting interior and one of the nicest outdoor garden areas to be found in the neighborhood — everything you need to rest and recoup after a lazy, hazy Sunday stroll down Sunset, where everyone you've made eyes at is on their way in."
Luxe de Ville: Best Handmade Accessories and Fashion
"Offering a choice selection of custom and vintage garments for men and women, Luxe de Ville also has a seriously hip selection of handmade jewelry, belts, hats, shoes and sunglasses…. Delicate and chunky adornments with animal and techno themes are available in multiple metals. Feathers and rhinestones abound. The boutique also hides an amazing $5 bargain bin where you might discover a steal that is the real deal."
Local Artisans Bazaar: Best Li'L Artisans Market
"On the last Sunday of each month, from 2 to 7 p.m., FIX Coffee Co. opens its outdoor space to DIY vendors who sell unique, handmade goods at the aptly named Local Artisans Bazaar…. The relaxed, dog- and kid-friendly environment offers handmade jewelry, tie-dyed pillows, vintage aprons and shoulder bags that double as monsters."
Echo Park Independent Co-op: Design Locally, Wear Fabulously
"…stylist Tristan Scott and eco-fashion specialist Rhianon Jones decided to set up shop stocking the city's most daring independent designers. Barely into its seventh month, the Echo Park Independent Co-op has already chalked up a roster of more than 50 labels, including hometown heroes such as leatherwear gurus Skingraft and the Lady Gaga-approved Brian Lichtenberg."
Sunset Bazaar: Best '50s and '60s Rediscovered Furniture
"The place is stuffed with period lamps, chandeliers, art and décor. Original art on the walls includes oils, acrylics and some watercolors, ranging in price from about $50 to usually no higher than $400. The shop includes a downstairs annex that most people don't know is there, with even more furniture and art. Most items are in excellent condition and sometimes pricey. But if a piece has not sold in a while, give negotiating a try."
Machine Project: The Best Place to Learn to Do-it-Yourself
"TMachine has become best known for its array of investigations into science, technology and the human soul with courses that range from electronics and sound design to sewing and natural medicine…. It's currently home to a full-scale shipwreck; make sure to check out the wildly popular annual Fry-B-Q."
The Short Stop: Best Bar You All Ruined (we have to agree with this title)
"…the Stop became an interesting mix of tatted punk rockers, boys and girls attired in thrift-store chic and local cholo types from the 'hood. Night creatures from across L.A. flock to enjoy the dark, moody atmosphere in its DJ'd dance space; homey back room with pool table, pinball and photo booth; main bar with strong drinks; and late-night visits from the Tamale Man."
Part Time Punks: Best Punky Time
"Post-punk, no-wave, Indie-pop — essentially the seminal sound swell that emerged from 1978 to1984 — is boldly and lovingly put into context here with emerging art-rock and dance acts, a combo that has also made Stock's KXLU radio show — shamelessly inspired by John Peel's "Peel Sessions" — revered among music heads."
El Compadre: Best Flaming Margarita
L.A. Weekly highlights the original location in Hollywood, but we're a fan of our Echo Park location as well (just don't take their advice on the blended margarita). "There is a piece of advice that veteran bartenders will occasionally give to young ones: Make someone a blue drink, and you'll be making blue drinks all night. The same, it turns out, is true of flaming margaritas."
Click here to browse through all the LA Weekly Best of LA picks.
https://echoparknow.com/wp-content/uploads/2020/04/EPN_Logo_600px.png
0
0
Kelly
https://echoparknow.com/wp-content/uploads/2020/04/EPN_Logo_600px.png
Kelly
2010-10-14 17:12:36
2010-10-14 20:23:16
Plenty of Echo Park businesses make the LA Weekly "best of" cut