American Coot takes first place at Echo Park Lake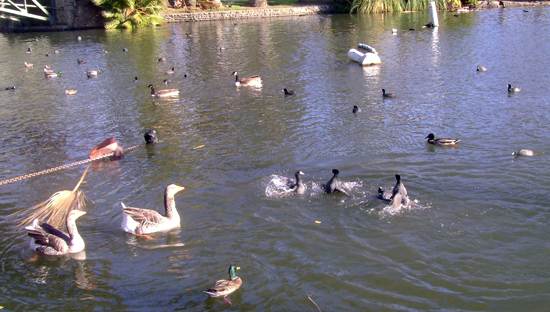 This year's Annual Christmas Bird Count at Echo Park Lake brought almost 20 people to the boat house early on Sunday, January 2. All in all, 41 species of birds were counted, a new record for Echo Park Lake (the fall bird count saw 16 species). Bird lovers in Echo Park have identified over 70 species of birds over the last ten years.
The American coot took the crown with the largest population of 110, and the Western gull at second place with 104. Read the full list of the 41 species found at Echo Park Lake after the jump.
The next bird count is the Great Backyard Bird Count in February.
You can read about Jenny Burman's account of the early morning bird count on her Chicken Corner blog.
41 species – 656 individuals
1 Ross's goose
14 Canada geese
25 American wigeon
18 Mallard
5 Northern shoveler
22 Ring Necked Duck
2 Lesser scaup
32 Ruddy duck
2 Pied-billed grebe
4 Double-crested cormorant
1 Great blue heron
5 Black-crowned night heron
1 Red-tailed hawk
110 American coot
3 Ring-billed gull
5 California gull
104 Western gull
1 Glaucous-winged gull
63 Rock pigeon
34 Mourning dove
12 Yellow-chevronned parakeet
14 White-throated swift
2 Anna's hummingbird
1 Alan's hummingbird
2 Belted kingfisher
3 Black phoebe
1 American crow
12 Bushtit
2 Ruby-crowned kinglet
11 Western bluebird
3 Northern mockingbird
8 European starling
1 Yellow warbler
23 Yellow-rumped warbler
1 Common yellowthroat
2 California towhee
50 Brewer's blackbird
22 Great-tailed grackle
11 House finch
3 Lesser goldlfinch
21 House sparrow
For more information contact  judycalifornia@yahoo.com, or call (323) 663-6767.
https://echoparknow.com/wp-content/uploads/2020/04/EPN_Logo_600px.png
0
0
Kelly
https://echoparknow.com/wp-content/uploads/2020/04/EPN_Logo_600px.png
Kelly
2011-01-10 11:36:38
2011-01-10 11:36:38
American Coot takes first place at Echo Park Lake