New restaurant Red Hill in Echo Park making headway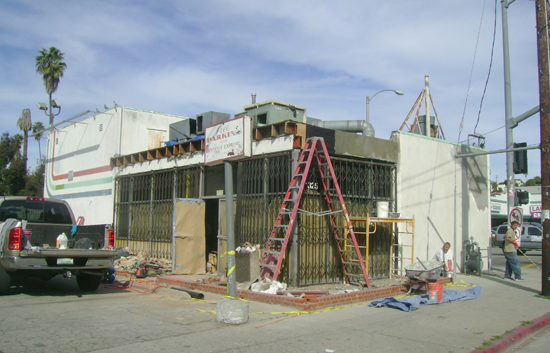 We got the heads up about this new restaurant back in November when we spoke to Echo Park resident Jason Michaud (owner of Local in Silver Lake) about newly opened vintage store Tosen in Echo Park. But the details hadn't been quite set in stone yet as he had been negotiating with property owner Walgreens for quite some time on opening up in that space. Now, they are still working on the details for the menu and specific ideas, but construction is moving forward on the old Phoenix Bakery at Echo Park Avenue and Montana (across from AYC) for the much-anticipated new restaurant they are calling Red Hill.
For those who aren't familiar with Echo Park/Elysian Height history, the older parts of Echo Park like Elysian Heights was where artists, radicals, socialists and free-thinkers of all sorts found safety and seclusion. Communists joined them in the 1920s during the first Red Scare (a lot came from Boyle Heights), earning Echo Park the nickname of Red Hill (also "Red Gulch"). This is where the new restaurant's name comes from.
Mario Orellana, formerly Lazy Ox Canteen sous chef, has teamed up with Jason to open up Red Hill. They are keeping very, very busy with another restaurant opening in downtown near Grand Central Market call Chimu – slated to open mid-February, it's a Peruvian takeout restaurant. Red Hill my open as soon as this summer, and will focus on American cuisine.
Red Hill will be open for brunch, lunch and dinner, with a primary focus on dinner. They are also "looking forward to making a great lunch spot for the locals," said Mario, and hope to serve beer and wine.
The Phoenix Bakery building has been collecting dust for quite some time (probably because Walgreens has always wanted to have a drive-through put in), so it's a welcoming sight to see it getting fixed up. One thing that also needs to be worked out: Neighboring restaurant Allston Yacht Club uses valet and parks patron cars in that parking lot.
We are looking forward to trying out Red Hill when it opens this summer!
https://echoparknow.com/wp-content/uploads/2020/04/EPN_Logo_600px.png
0
0
Kelly
https://echoparknow.com/wp-content/uploads/2020/04/EPN_Logo_600px.png
Kelly
2011-01-21 16:00:30
2011-01-21 16:05:05
New restaurant Red Hill in Echo Park making headway