Climbing some big stairways at the third annual Big Parade
We didn't get a chance to tell you about this ahead of time, but the Big Parade III is going on right now and through the rest of this weekend.
The 35-mile, two day excursion covers 100 stairways of beautiful Echo Park, Downtown, Silver Lake and Los Feliz, and is led by Bob Inman, nicknamed the "stairway god."
While the tour has started as of the publication of this post, the tour is organized by "loops" and you can join in at any time. The best part? You can find out where they are, real time, by checking out their Twitter page (right now they are on the Downtown LA segment).
Some of the highlights for today's tour include an Echo Park loop, meeting at Fix Coffee at 3:00 pm for a 5.5 mile historic stairways loop. At 6:00 pm is the final loop of the day in Angelino Heights, meeting at Lot 1 Cafe for a two mile tour of the Victorian architecture of the neighborhood and Echo Park Lake. Check out the map below and visit the website for more details on timelines: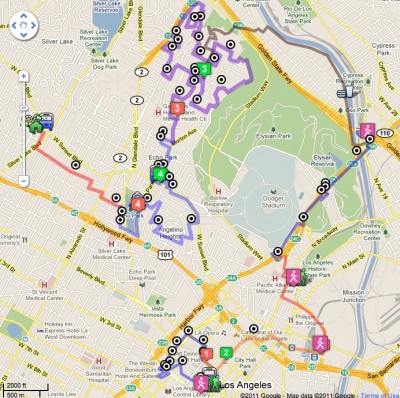 Sunday's tour covers Silver Lake and Los Feliz, all the way up to the Griffith Observatory and the Hollywood sign.
Along the way, you'll discuss historical points of interest, nature, and architecture – all things which make our neighborhoods awesome!
Big Parade III
May 21-22, 2011
Follow on Twitter
Visit the website for timetables and more info
https://echoparknow.com/wp-content/uploads/2020/04/EPN_Logo_600px.png
0
0
Kelly
https://echoparknow.com/wp-content/uploads/2020/04/EPN_Logo_600px.png
Kelly
2011-05-21 10:44:42
2011-05-21 10:44:42
Climbing some big stairways at the third annual Big Parade