RIP our favorite Echo Park laundromat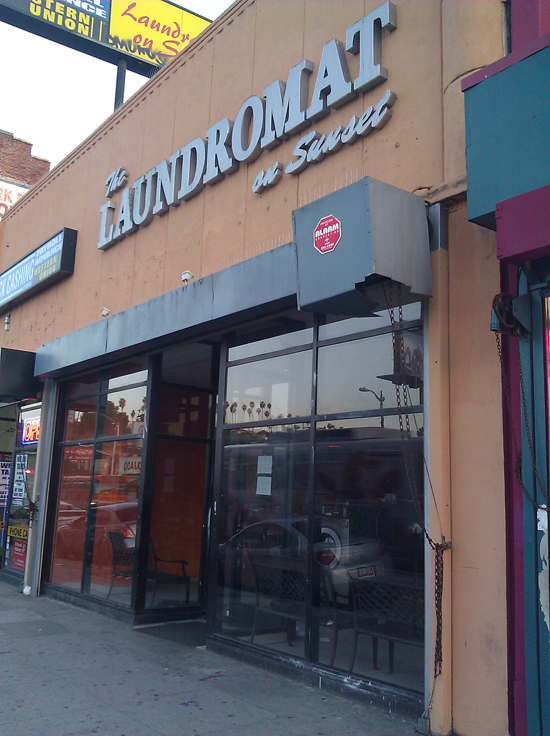 About a month ago, we return from the honeymoon to the real world – lots of laundry and an empty refrigerator. Now, you might be a fan of Lucy's – tempting you with Starbucks and Subway sandwiches and all. But we have a different routine along Sunset Boulevard. Sandwiched between Stories Books and Out of the Closet is (rather, was) a reliable 24-hour place to do the laundry. Better yet, its proximity to some of our favorite bars and restaurants gave us the excuse to have dinner and a beer or two at Masa while the our delicates spun in the washer.
But this time we arrive to a shuttered laundromat, and seeing the vending machines had been removed and mail piling up near the front door, we had a feeling it was for the long run.
Now, a month later, the favorite laundromat is still closed and collecting dust. No word on why it closed or what's going to happen with the empty space, and our routine will have to change a little bit.
It's not that there aren't enough laundromats in Echo Park, but we'll miss the routine of grabbing a beer in between loads. Perhaps someone should take over the space and turn it into a combined bar and laundromat (Like the ones they have in San Fran?)? The hipsters would LOVE it.
https://echoparknow.com/wp-content/uploads/2020/04/EPN_Logo_600px.png
0
0
Kelly
https://echoparknow.com/wp-content/uploads/2020/04/EPN_Logo_600px.png
Kelly
2011-06-04 12:23:44
2011-06-04 12:23:44
RIP our favorite Echo Park laundromat